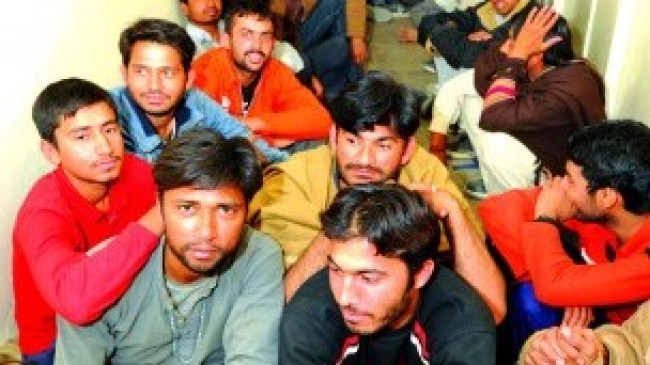 ---
QUETTA: "Do not heed the rumble of a distant drum," says legendry Persian poet Omar Khayyam.

True – at least in the case of 30-year old Chaudhary Nawaz and 28-year old Abdul Rashid, both hailing from Gujarat district of Punjab. The pair set out for Greece in search of a better future but instead landed in a prison in the Iranian port city of Bander Abbas. "Bashir Ahmed, an agent in Gujrat, had promised to send me to Greece via Iran and Turkey for Rs 400,000," Nawaz told The Express Tribune at the FIA centre in Quetta. "I was supposed to pay the money in three installments," he added.

Human smugglers are doing their dirty work openly, deceiving innocent villagers with promises of a prosperous life abroad. "Few are able to reach their dreamland and most of them are arrested en route," Nawaz said. Nawaz's lower-middle class family decided to send him to Greece to end their financial woes once and for all. They gambled all their money but only to see their son land in jail, instead. Abdul Rashid, another illegal immigrant, said that they had started their journey from Karachi along with 100 people.

A local human smuggler in Gwadar helped them cross the border into Iran under the cover of darkness. "Across the border in Iran we were given in charge of another agent who bundled us into three vehicles like animals and drove us through a dense forest for a couple of days," Rashid said. "En route the agents kicked us, slapped us and beat us with sticks," he added. Rashid said the agents bribed border guards and security officials to allow the vehicles to cross checkpoints and travel on.

"It was the worst experience of my life," Rashid recalled with a shudder. "We had to go without food and water for days. We were not allowed to take a bath for five days," he added. While crossing a checkpoint in the Iranian city of Bander Abbas, they were stopped by masked gunmen at gunpoint and deprived of all their valuables. "It was all planned," Rashid said, accusing the Iranian and Pakistani agents of orchestrating the "looting drama". Finally they were arrested by Iranian law enforcers. Nawaz and Bashir were handed over to Pakistani border guards by their Iranian counterparts a couple of days back and now they are in FIA custody.

Interestingly, the two young men are undeterred by their ordeal. They are determined to make it to their dreamland. Assistant Director of the Federal Investigation Bureau (FIA), Sultan Afridi, says the illegal immigrants are always reluctant to divulge information about human smugglers, called agents. "These agents also enjoy support from political leaders," Afridi told The Express Tribune at his office. "Pakistan has an 850-kilometre long border with Iran. It is very difficult to seal the border to check the cross-border movement of illegal immigrants. The FIA is doing its best within available resources to check this human smuggling," he said. "We are working in collaboration with the Frontier Corps. But the Mekran police are not cooperating with us," he added.

"Most of the illegal immigrants belong to Gujrat, Mandi Bhauddin and Gujranwala, while some of them also hail from as far as Peshawar and Larkana," Afridi said. "Around 1,150 illegal immigrants have been arrested during the last four months, while last year 4,500 illegal immigrants were apprehended. All of them were handed over by Iranian border guards to Pakistani authorities," he added. The FIA official said that they have also arrested 1,400 agents so far since 2004, 17 of them from Quetta. He regretted that in most of the cases accused human smugglers get acquitted from courts for lack of evidence.

"There is a need for reforms in human trafficking laws to make them more effective," he said. Afridi also said that there was need for enhancing the capacity of courts in Balochistan as all prisons in the province could house only 1,500 prisoners, which is equal to the number of illegal immigrants handed over by Iranian forces every month.