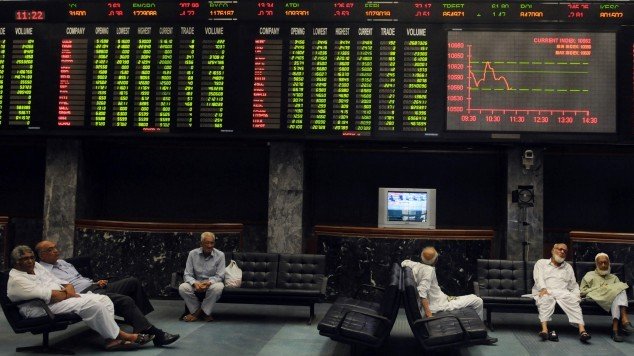 ---
KARACHI: Stocks ended lower on Wednesday after selling in global markets and as local investors stayed on the sidelines because of uncertainty over an International Monetary Fund (IMF) loan, dealers said.

The Karachi Stock Exchange's benchmark 100- share index ended 0.35 per cent, or 37.36 points, lower at 10,519.02. "There was pressure today mainly because of pressure in global markets because of fears about Greece's financial crisis," said Mustafa Iqbal, head of institutional sales at Topline Securities.

Fears that a planned rescue for Greece could stall and extend the financial crisis to other euro zone countries hit European markets on Wednesday as investors worried that Athens may default on its debt. Dealers said local investors were also cautious because of uncertainty over the fifth tranche of the IMF loan.

The IMF board will likely meet in mid-May to consider the next tranche of Pakistan's $11.3 billion loan, a source close to talks between IMF officials and the government said last week.

The board had originally been scheduled to meet on March 31 to approve the next portion of the emergency package, which was first agreed on in November 2008 to avert a balance of payments crisis and shore up reserves. However, differences over several issues, such as an increase in the power tariff and implementation of a valueadded tax, have delayed approval of the tranche.

"The market hit an intraday low of 10,445 points at 1:15 pm on Wednesday due to selling pressure," said Muzzamil Mussani, an analyst at JS Global Capital. Trading volume rose 8.9 per cent to 118.9 million shares compared to Tuesday's tally of 110 million shares.

Second-tier stocks stood as volume leaders while some activity in the oil, cement and banking sectors was also witnessed and as a result the total exchange value stood at Rs4.68 billion, rising 12.8 per cent from Tuesday's total. During the day's trade 151 stocks closed higher, 263 stocks declined and 14 stocks remained unchanged in value.

TRG Pakistan (KSE: TRG) was the volume leader for a third day running with 7.73 million shares gaining Rs0.09 to close at Rs5.81. Lotte Pakistan (KSE: LOTPTA) came second with 7.70 million shares losing Rs0.17 to close at Rs11.12.

SilkBank (KSE: SILK ) finished third with 7.64 million shares losing Rs0.10 to close at Rs 3.61. Oil and Gas Development Company's (KSE: OGDC) share price rose 0.67 per cent to Rs134.32 after a better-thanexpected earnings announcement for the first nine months of the current fiscal year. Engro Corporation's (KSE: ENGRO) share price fell 2.3 per cent to an intraday low of Rs205.75 but managed pick itself up after an unexpectedly better first quarter earnings result for the 2010 calendar year.

Unilever Pakistan (KSE: ULEVER) was Wednesday's KSE-100 top gainer of the day, its share price rising five per cent to close at Rs4,150.9. Gharibwal Cement, Tuesday's top KSE-100 gainer, was in the losers list dropping 6.9 per cent. Pak Suzuki Motor (KSE: PSMC) closed in the red, its share price shedding five per cent to close at Rs88.37.