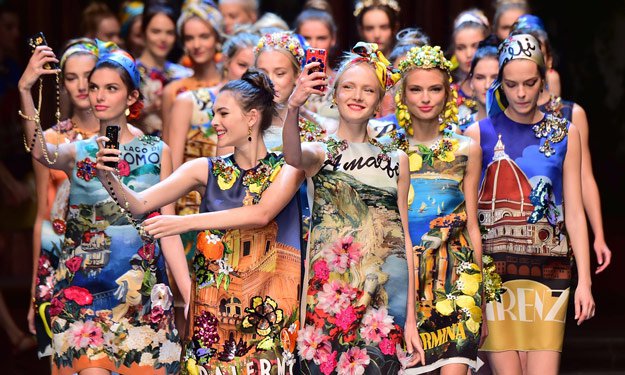 ---
MILAN: From the fashion capital of the world, here are the top 10 Spring/Summer 2016 womenswear trends spotted at Milan fashion week.

Alessandro Michele led the way with a second acclaimed collection for Gucci. Michele's woman -- feisty, kooky and independent -- dresses to please herself. The influence of Michele's vision was felt across almost every other collection.




Not the short-at-the-front, long-at-the-back hairstyle favoured by 1980s footballers: rather skirts and dress cut asymmetrically to given evening wear a lighter, rockier feel.

Read: 4 make-up products you should stop using immediately

The asymmetric trend, the younger mini-friendly turn of many lines and Dolce and Gabbana's retro beachwear all point to 2016's must-have accessory being a good pair of pins. How do we know? Giorgio Armani told us so.




Haute couture mega gowns are enjoying a moment on the celebrity red carpet courtesy of Rihanna and co. But weighty, full-length evening wear was a rare breed in Milan. The end of ready-to-wear glamour?

Etro's ballet-themed collection made the point most blatantly but light-as-a-feather fabrics were everywhere, from billowing dress trains to the bows adorning flat sandals. Good time to be in the sheer organza business.




The likes of Anna Molinari at Blumarine embraced tops so see-through they begged the question: "Really?" Giamba deployed strategic stars and hearts to keep things demure.




2016's on-the-move woman needs a jacket that can be thrown on quickly: hence the bomber versions at Marco de Vincenzo, Etro, Cavalli and Versace, whose military-inspired tailoring was hailed as a welcome move away from the brand's overt sexiness.




Gucci featured jewel-encrusted glasses so big the models were all rubbing their tiny noses backstage. At Emilio Pucci the oversized eyewear resembled scuba masks. Dolce and Gabbana gave the look a 1950s twist.




Cheetah-print clogs anyone? Bottega Veneta is your place. In line with the 'dressing for ourselves' mood, flats predominated, from strappy sandals to peep-toe booties, sometimes adorned by fur and feather.




Max Mara headed for the ocean, numerous collections had a beachwear feel and Bottega Veneta's Tomas Maier declared: "I want to be in the open air." 2016 is going to be a year for getting out and about.


COMMENTS
Comments are moderated and generally will be posted if they are on-topic and not abusive.
For more information, please see our Comments FAQ