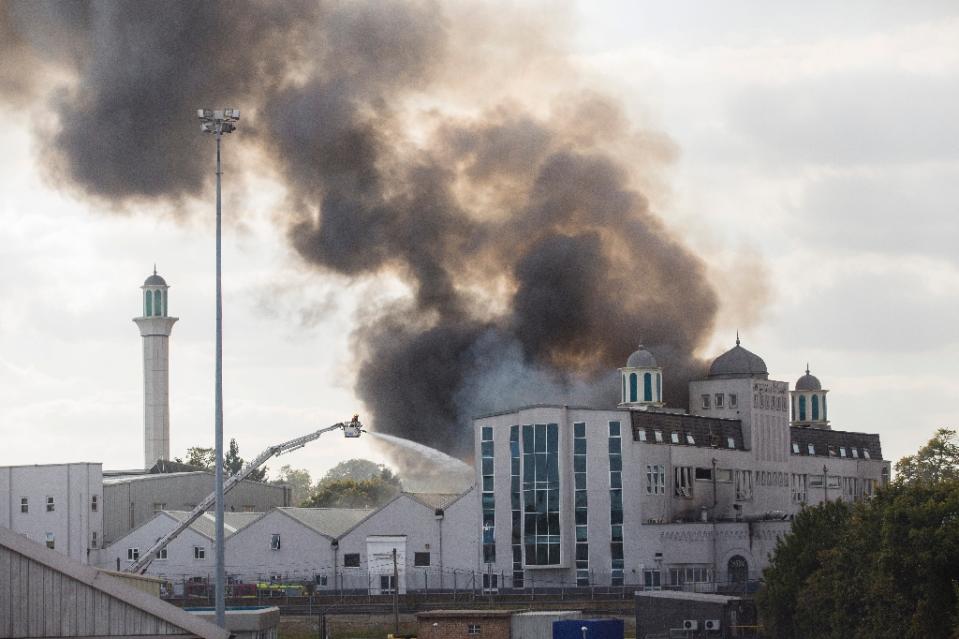 ---
LONDON: A blaze broke out on Saturday at a place of worship of Ahmadis in London which claims to be the largest in western Europe.

Ten fire trucks were sent to fight the blaze at Baitul Futuh in Morden, southwest London.

The smoke could be seen across the city.

One man, said to be in his 40s, was taken to hospital after suffering from smoke inhalation, London Ambulance Service said.

Read:Putin opens Moscow's largest mosque, warns against extremists

The place of worship was built for the Ahmadi community to provide people with a meeting place and venue to hold social religious events.

The 5.2-acre complex was completed in 2003. There is space for at least 10,500 people to pray, according to its website.

The dome stands 75 feet above ground level.

"It is a very beautiful building and what has happened is very sad," said Stephen Alambritis, leader of the Merton Council local authority.

"There were no people at prayer at the time. It does seem that evacuation procedures worked."

"The congregation there, especially on a Friday, are very large and peaceful and they add very much to the community. This will be a blow to their operation but they will be back."

Read: Moscow becoming Europe's largest Muslim city

The fire affected around half of the ground floor, part of the first floor and a section of the roof.

London Fire Brigade said the blaze had hit administration buildings and the "mosque [place of worship] itself is thankfully unaffected."

Teen suspects arrested

Meanwhile, two teenagers were arrested in connection with the incident.

Two boys aged 16 and 14 have been arrested on suspicion of arson and remain in custody at a south London police station, Scotland Yard police headquarters said.