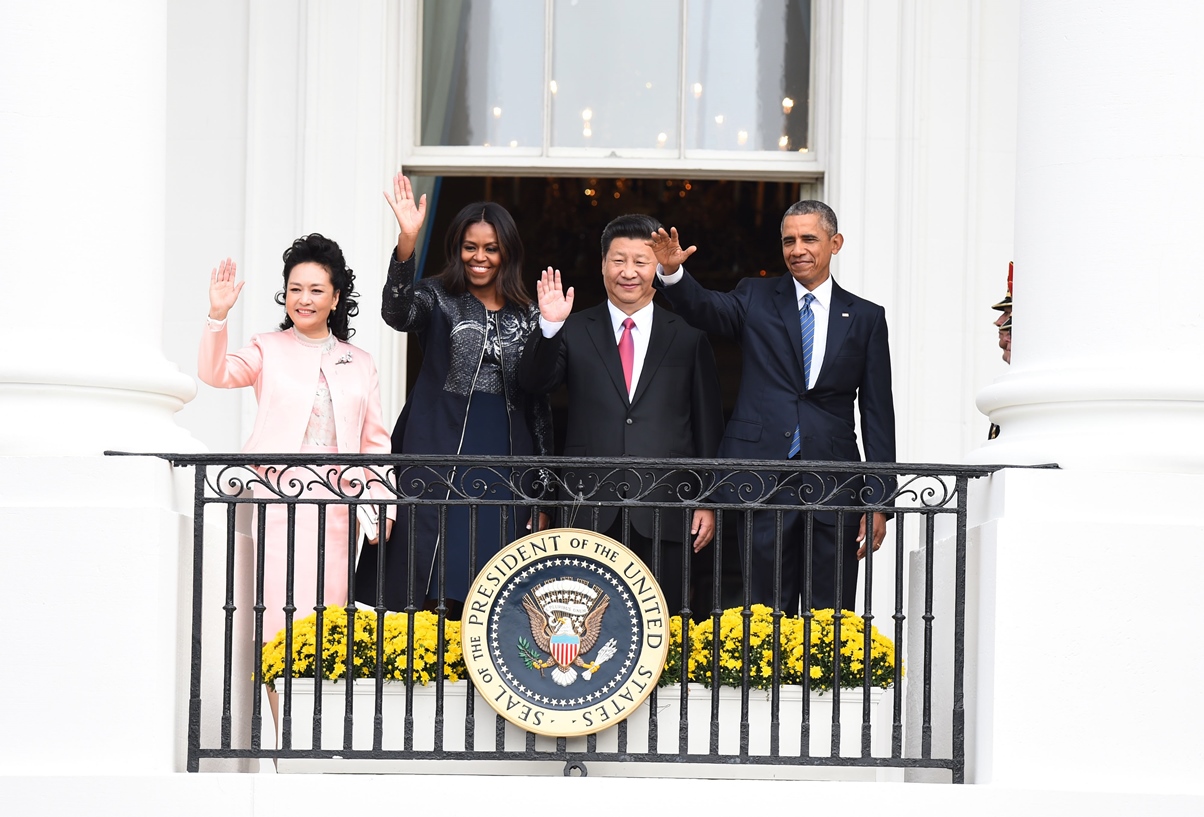 ---
WASHINGTON: US President Barack Obama welcomed China's Xi Jinping to the White House on Friday with pointed remarks about human rights, cyber espionage and Beijing's territorial ambitions.

Xi arrived at the White House to a 21-gun salute and full ceremonial military honours, underlining the importance of the state visit, but Obama did not pull any punches.

Washington and Beijing are at loggerheads over spying and China's claims in the South China Sea, but the relationship underpins the entire global economy.

And Washington hopes to persuade China, the world's top polluter, to make a new commitment on climate change.

"Even as our nations cooperate, I believe and I know you agree, that we must address our differences candidly," Obama said at a welcoming ceremony, with Xi standing at his side.

The US leader stressed Washington's attachment to human rights, and tacitly referred to allegations that China's spies have hacked US firms for commercial gain.




"We believe nations are more successful and the world makes more progress when our companies compete on a level playing field," Obama warned.


"Nations are more successful and the world makes more progress…when the universal human rights of all people are upheld" —@POTUS

— White House Archived (@ObamaWhiteHouse) September 25, 2015
"When the United States and China work together, it makes our nations and the world more prosperous and more secure." —@POTUS

— White House Archived (@ObamaWhiteHouse) September 25, 2015


And he called for international disputes to be "resolved peacefully" - an implicit reference to China's disputed territorial ambitions in the South China Sea.

Xi's opening remarks were less pointed, but he warned of the need for mutual respect of each other's sovereign rights and the importance of economic cooperation.

"We have no choice but to seek win-win cooperation," Xi said. "Let us work hand in hand with great resolve to write a new chapter in China-US relations."

The visit came as the weakness in the Chinese economy is roiling world markets, and discussions of Beijing's slow move to a market-led exchange rate will be tense.

But the White House hopes for a constructive exchange on at least one subject: climate change.

China is the world's biggest polluter and the United States is one of the worst per capita. Xi is expected to announce a commitment to limit greenhouse gas emissions.

"China will confirm for the first time that it will launch a national emissions trading system, an ETS or a cap-and-trade system in 2017," a senior US official said.

That could help limit emissions in China, which has already launched seven pilot trading schemes in locations such as Beijing and Shanghai.

The initiative would add to emissions curbs pledged last year by China and the US in a bid to forge a UN climate pact, scheduled to be sealed in Paris in December.

Other breakthroughs are unlikely, although an agreement on cyber security has not been ruled out.

Obama and held Xi a casual meeting on Thursday evening, shedding their ties and strolling out of the West Wing to Blair House, the president's official guest house.

Officials hoped that by starting off informally, the leaders would find time for a relaxed exchange of views.

"Far and away, the most constructive engagements they've had have been in their private dinners," said senior Obama national security aide Ben Rhodes.

This provides an opportunity, Rhodes said, to "put aside the talking points and actually get a window into one another's world view."

Xi - who kicked off his US visit in Seattle, meeting with top corporate CEOs - is seen in Washington as one of the strongest Chinese leaders in decades.

Read: Nobel winners urge Obama to press Xi for fellow laureate's release

Even as the Chinese economy has slowed - calling into question Xi and the Communist Party's technocratic bona fides - the president has tightened his grip on power.

But his assertiveness has fuelled a host of disputes that US officials say risk throwing the delicately balanced relationship out of kilter.

"At any one time we are cooperating and competing," said one senior administration official.

"What we strive for is to make sure that competition doesn't define the relationship and that competition is taking place in a way that is healthy and is fair."

Obama and Xi will also look to highlight cooperation to curb Iran and North Korea's nuclear programs and tackling people-to-people ties.

An agreement is also expected to limit the risk of dangerous air-to-air military encounters.

On the eve of Xi's visit, US officials said two Chinese fighter jets had passed dangerously close to an American spy plane in international airspace over the Yellow Sea.
COMMENTS (2)
Comments are moderated and generally will be posted if they are on-topic and not abusive.
For more information, please see our Comments FAQ