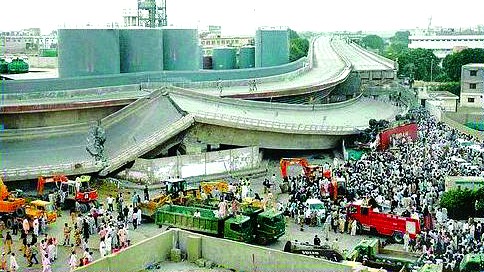 ---
KARACHI: Additional District and Session Judge Gulshan Ara Chandio on Wednesday extended the interim bail for the suspects of the Shershah bridge collapse case till May 8.

The extension was granted after the police failed to present a record before the court. During the hearing, the deputy public prosecutor complained that the investigative officer (IO) assigned to the case had yet to submit a police record against the accused. The court ordered the IO to present the record at the next hearing, after which the IO appealed the court to grant extra time to submit a challan of the case. The IO informed the court that an interim challan had been submitted at the court earlier after which a written request had been sent to the Prime Minister (PM) House to get a copy of the report verified by the PM's investigative commission.

The commission, however, has yet to provide a verified copy, the IO said, adding that a challan against the accused would be submitted before the court as soon as the verified report is received. The suspects whose bail has been extended are former National Highway Authority (NHA) chairman Farrukh Javed, former NHA planning member and existing chairman Altaf Ahmed Chaudhary, NHA planning member Raja Nausherwan, the general manager construction, Muhammad Yousuf Barkzai, Tehsinul Haq, construction engineer Najmul Hassan, Engineering Consultants International (Pvt) Limited chairman Zaheer Mirza and directors Khalid Mirza and Naveed Mirza.

On September 1, 2007, a part of the then newly-constructed Northern Bypass bridge in Shershah collapsed, barely a month after its inauguration by former president Pervez Musharraf on August 6, 2007. Five people died, fourteen people were injured and six cars were destroyed in the collapse of a section of the one-kilometre- long bridge. A case had been registered against the suspects at the Supreme Court's orders. In March 2010, a senate committee had ordered an inquiry into the bridge's collapse and had directed that strict action be taken against the NHA members and other officials responsible for the bridge's construction.

On April 8, the Supreme Court ordered that a fresh case be registered against the contractors and the NHA officials involved in the construction and that the victims be compensated. It had also ordered the federal government to place the names of the accused men on the Exit Control List.
COMMENTS (4)
Comments are moderated and generally will be posted if they are on-topic and not abusive.
For more information, please see our Comments FAQ