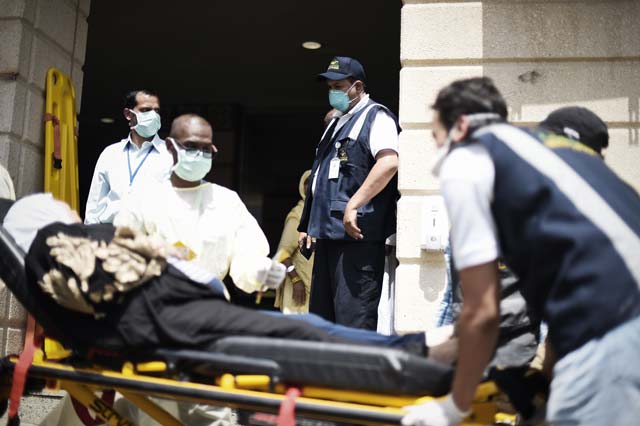 ---
MAKKAH/ MINA: Saudi Arabia's crown prince ordered an investigation into the stampede at the Hajj pilgrimage, the official Saudi Press Agency reported.

Prince Mohammed bin Nayef, who chairs the Saudi Hajj committee, ordered the probe during a meeting with senior officials responsible for the pilgrimage in Mina, where the stampede took place.

The findings of the investigation will be submitted to King Salman, "who will take appropriate measures" in response, the agency added.

Thursday's tragedy comes on the heels of another one, in which 108 people were killed when a massive construction crane collapsed on Mecca's Grand Mosque on September 11 as thousands were gathering for the Hajj.

At the time, Nayef said the accident would not affect this year's pilgrimage and that the safety of pilgrims was a "priority".

Earlier Thursday, Health Minister Khaled al Faleh promised that there would be a rapid and transparent investigation of the stampede, which he blamed on undisciplined pilgrims not following instructions.

The health minister was quoted by El Ekhbariya television as saying "many pilgrims move without respecting the timetables" established by authorities, which was the "principal reason for this type of accident."

"If the pilgrims had followed instructions, this type of accident could have been avoided."

Read: At least 717 pilgrims killed, 805 injured in Hajj stampede at Mina

At least 717 pilgrims died while another 805 were wounded in a stampede during the stoning of Satan at Mina, the Saudi civil defence said.

The pilgrims were killed in a crush at Mina, outside the holy city of Makkah, where some two million people are performing the annual Hajj pilgrimage.

'Safety errors'

Earlier, Iran had accused Saudi Arabia of safety errors after at least 15 of its citizens died in the stampede.

Read: Iran accuses Saudi of Hajj safety errors after stampede

The head of Iran's Hajj organisation, Said Ohadi, said that for "unknown reasons" two paths had been closed off near the scene of the symbolic stoning of the devil ritual where the accident later took place.

"This caused this tragic incident," he said on Iranian state television, giving the death toll, indicating that fatalities and casualties could rise.

Ohadi said the path closures had left only three routes to the area where the stoning ceremony was held.
COMMENTS (13)
Comments are moderated and generally will be posted if they are on-topic and not abusive.
For more information, please see our Comments FAQ