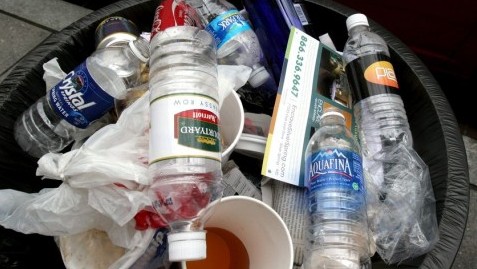 ---
KARACHI: If it is not attached to a water dispenser in your house, it is in your bag. Drinking bottled mineral water has become a status symbol in the city where people use it without being aware of its quality and side effects, claims nongovernment organisation Shehri - Citizens for a Better Environment.

Laboratory tests have proved that none of the bottled water brands offer purity, nourishment and safety, contrary to their claims on the packages, said Naeem Sadiq, a member of Shehri, while presenting his research on tap and bottled water at the Urban Resource Centre, Karachi. "Bottled water is one of the biggest scams of the twentyfirst century," he said. Twelve out of 22 mineral water brands in Pakistan have been providing contaminated water, according to a report by the Pakistan Council for Research in Water Resources in 2004, Sadiq said.

Another report issued by the same organisation in 2009 said that 16 out of 22 mineral water brands were involved in the business of selling contaminated water, he added. "Some companies fill water from taps in Orangi and Landhi." "The infamous tap water is not mixed with sewage as it is claimed by these companies," Sajid said, adding that a mineral water brand, owned by a multinational company, has recently admitted to using tap water. There are many problems with tap water in the city but using mineral water is not the solution. Rather we should address the issues and guide people, Sadiq said.

"Research has revealed that consumption of drinking water is increasing by 40 per cent every year while the provision of clean tap water is decreasing at the same rate," he said. According to Sadiq's research, the issue of shortage of clean water in the city has been exaggerated so that a "mafia" made up of the government and big corporations could deprive people of their basic right to clean water and earn big money, Sadiq said. Moreover, research carried out by the project director of Orangi Pilot Project, Parveen Rehman, has also revealed that the water crisis in Karachi was manufactured and not real.

According to Rehman, the city is supplied with 695 million gallons of water every day out of which 272 million gallons are stolen. Moreover, people living in informal settlements pay up to Rs100 for every 25 gallons of water, which Sadiq said, is more than what the wealthier residents of the city pay for tanker-supplied water.