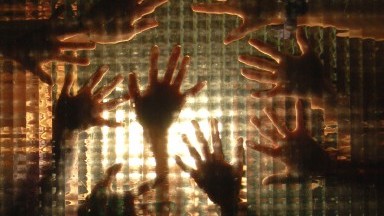 ---
KARACHI: "Uncle Manmohan Singh please release my father from jail," was the plaintive plea inscribed on a placard being held by a girl at a rally for Pakistani fishermen detained by India for crossing over into its waters.

The Pakistan Fisherfolk Forum (PFF) organised the rally on Wednesday at the Karachi Press Club and similar events were held in India's Porbindar, Gujrat by the World Forum of Fisher People and National Fish Workers Association among other groups. Fourteen-year old Zubaida whose father Hussain was put in jail in India when she was only one year old, says she has no idea who he is. "I have been hearing since childhood that my father will be back among us very soon," she told The Express Tribune.

"But I don't know when that day will come." Her father isn't the only member of her family who is in an Indian jail. Her uncles Aachar, Siddique, Hussain, Hanif and Wasayo are also incarcerated. "We are completely unaware of how they are in jail," said Hussain's wife Sakina. "In his last letter, my husband wrote that they would be released soon." More than 200 fishermen are still languishing in Indian jails. The fishermen bear the brunt of choppy Indo-Pak relations and each country's coast guard picks up the men when they stray past the terroritial borders. For their part, however, the authorities maintain that the fishermen are well aware of the limits and cross them in search of catch.

The men, women and children who gathered outside the Karachi Press Club, a common space for any aggrieved person or party, shouted slogans against the government but there was little indication that any elected representative heard them. They had arrived there from Thatta, Badin, Ibrahim Hyderi and other fishing villages in the afternoon. Part of the rally was led by Mohammed Ali Shah of the PFF and Zulfiqar Shah of Pakistan Institute of Labour Education and Research. Shah said that this problem had been brought up at major platforms such as South Asian Association for Regional Cooperation but they still needed to find a permanent solution.

Their families have given a list of over 153 confirmed names to the Government of Pakistan. "Recently 17 other fishermen went missing and we suspect they have been arrested by the Indian Navy," Shah said. It is estimated that 580 Indian fishermen are in Pakistani jails. Out of them around 460 have completed their sentences but are still not being released. To add to their problems, the fishermen don't get their boats or trawlers back when they are released.

According to Shah, 444 Indian trawlers have been seized by the Pakistani authorities and are kept in Karachi. Each trawler costs around Rs2 million. Similarly dozens of trawlers belonging to Pakistani fishermen are in the custody of the Indian government. Sami Memon of the PFF told The Express Tribune that the security agencies arrested the fishermen just to "keep score" with each other.
COMMENTS
Comments are moderated and generally will be posted if they are on-topic and not abusive.
For more information, please see our Comments FAQ