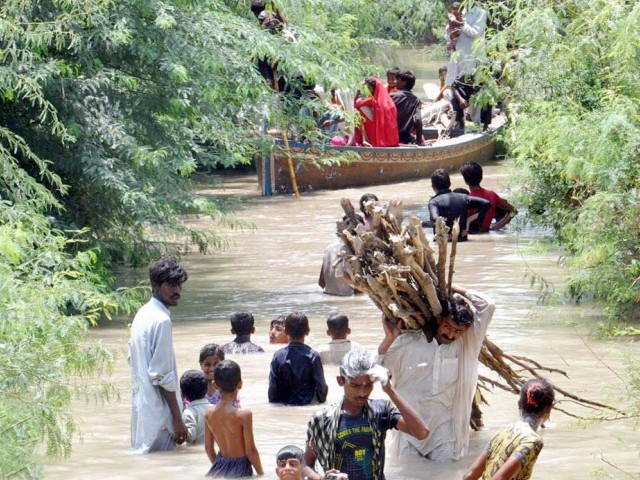 ---
ISLAMABAD: With the Pakistan Meteorological Department (PMD) forecasting widespread rain from September 21 to 23, the National Disaster Management Authority (NDMA) on Thursday issued a flood warning for Punjab.

Based on the latest forecast, the NDMA has alerted all departments concerned to take pre-emptive measures to avoid maximum human and property loss.

Talking to The Express Tribune, NDMA Disaster Risk Reduction member Ahmed Kamal said extremely heavy showers were expected at isolated places over the lower and upper catchment areas of Sutlej, Ravi, Chenab and Jhelum rivers between September 20 and September 24.




"We have directed all departments concerned to take the required preventive measures in order to avoid damages.  We are going to monitor the weather pattern daily and will ask considering its severity for evacuation of population living near rivers."

This year's flood has already claimed 238 lives, injured 232 people, damaged 10,761 houses, submerged 4,111 villages and affected 1,572,191 people, according to the NDMA.

PMD Director General Ghulam Rasul said a low air pressure was prevailing over India and its influence would result in heavy rains in the upper and lower catchment areas of major rivers.

He said the flooding intensity would depend on India releasing the rainwater in the rivers. "Flood situation in river Sutlej and Ravi will depend on the releases from Indian reservoirs. Exceptionally high flood situation is also expected in the nullahs of Ravi and Chenab rivers."

He added the upcoming rain spell was not a part of monsoon season. "After the end of monsoon season, chances are there of such showers," Rasul said. The mercury would go down by four to five degrees after this spell, he added.

The PMD director-general said heavy rains were expected in Multan, Sahiwal, Lahore, Rawalpindi, Bahawalpur and Malakand divisions besides Kashmir. The precipitation volume could reach up to 100mm in some mountainous areas.

"At a time when border tension between both countries is on a high, India avoids disseminating information about floodwaters and release from its reservoirs, or sends delayed information or wrong statistics," he said. The PMD radar system, according to Rasul, is continuously monitoring the flood situation in rivers.

Heat wave in Karachi

Karachi will experience more hot weather in the next three days with the mercury expected to touch 40 degrees Celsius.

Met department officials and doctors have advised citizens to adopt precautionary measures and not to expose themselves to direct sunlight.

The maximum temperature on Thursday was recorded at 36 degrees centigrade. "The temperature may go up to 40C," said met office senior official and focal person Abdul Rasheed.

Published in The Express Tribune, September 18th,  2015.