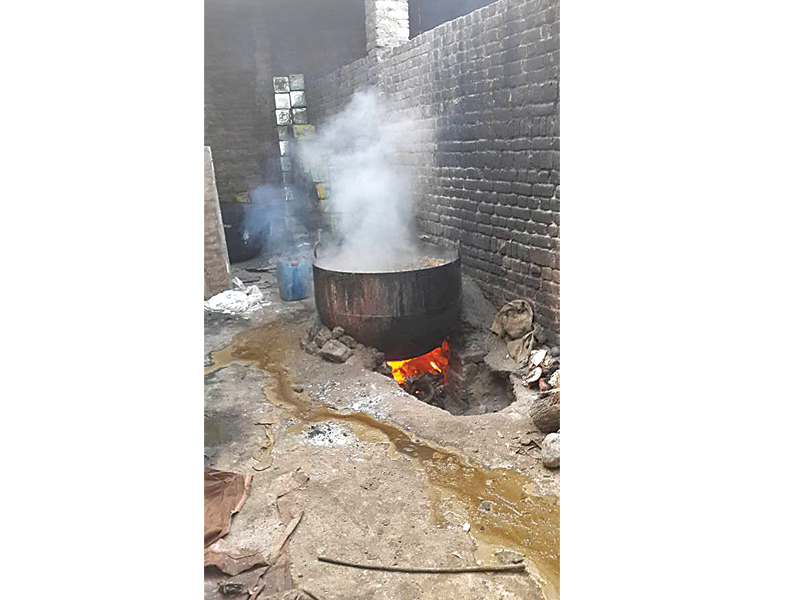 ---
PESHAWAR: The district administration has sealed a government slaughterhouse that was manufacturing unhygienic cooking oil from the remains of animals, earlier this week. However, sealing slaughterhouses has not eliminated oil production which has become a thriving business, supplying to hundreds of restaurants across the city.

Dangerous enterprise

According to the district administration, animals are first slaughtered and then their remains are processed to produce cooking oil. Some hazardous chemicals are also added into metallic cans before the oil is supplied to restaurants and markets.

Additional Deputy Commissioner Usama Warraich said when they raided a government-run slaughterhouse, they were surprised to see dumps of waste inside the facilities. "These people are playing with public health," he said.

"We have closed eight such centres on Ring Road and recovered more than 300 cans of unhygienic oil in the past week," Warraich said. He added during interrogation, it was revealed the oil was also transported to cities in Punjab and Sindh.

Nasir Khan, a butcher, who has been associated with slaughter business for several decades said the remains of animals are purchased from them at Rs5,000 per maund. "The business is not only limited to Ring Road but is in full swing in the entire city," Khan said. Malikpura, Qasab Khana, Ganj, Phandu are some of the areas where the business is thriving the most.

"There is a huge demand for such cooking oil in Peshawar since 95% chapli kebab houses use it," added Khan.

Hazardous to health

According to doctors, the use of this oil is extremely detrimental to health. "This oil is called dhal and has the most deleterious consequences on the health of people particularly between the ages of 50 and 60," said Abur Rahim, a senior doctor at Hayatabad Medical Complex. He said some kebab sellers even add animal blood to mince meat to enhance the taste of the kebabs which, according to him, is extremely dangerous for human consumption.

There is no check on government slaughterhouses which means there is no guarantee animals are slaughtered in a hygienic manner. The cooking oil produced at these centres is sold at Rs150 per kilogramme in the black market.

Ray of hope

"We are well aware there is a lack of facilities at government slaughterhouses in Peshawar," said Peshawar DC Riaz Mehsud. He said they are working on a mega plan to provide the city with a modern slaughterhouse. "The K-P government will receive Rs2.5 billion to establish a modern slaughterhouse by next month."

Published in The Express Tribune, September 18th,  2015.
COMMENTS
Comments are moderated and generally will be posted if they are on-topic and not abusive.
For more information, please see our Comments FAQ