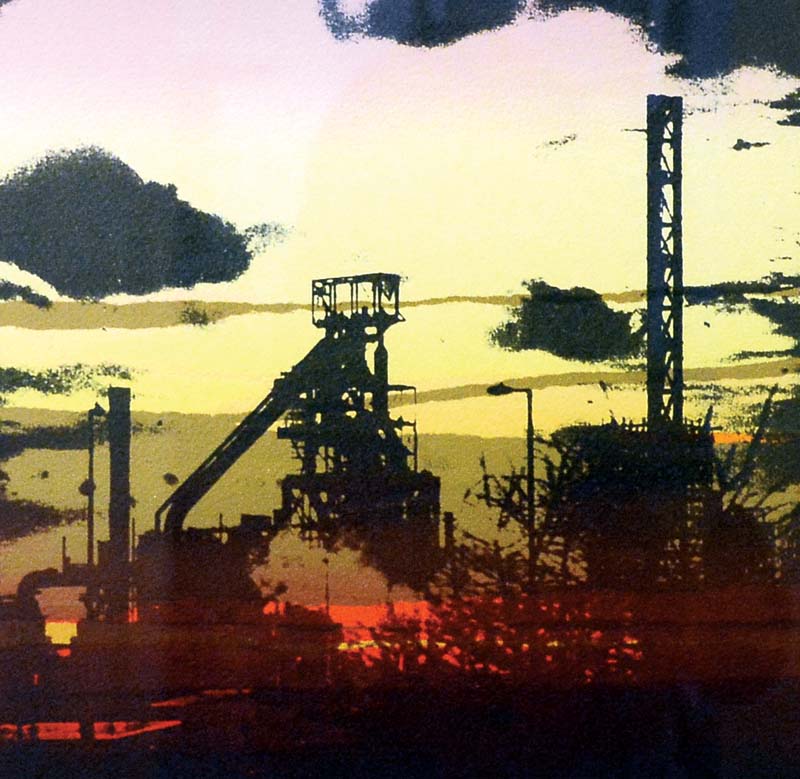 ---
ISLAMABAD: An international printmakers' show titled "10 A Collab," featuring ten active printmakers from six countries is ongoing at Nomad Art Gallery.

The exhibition displays works of Iram Wani, Sameera Khan, Vibhuti Sharma, Elise Searson, Sarah Hopkins, Tracey Moberly, David Jones, Lovesh Sharma, Rodrigo Rosas and Sidra Ali, and opened on Monday.

It features unique works, as print shows are a rare phenomenon in the city.




Gallery director Nageen Hyat said this particular exhibition can be called a perfect coordination and blend of aesthetics with harmonised tango of nourishment for soul. It is an ideal platform to reflect inner and outer reflections of lives of artists through thought-provoking imagery, she shared.

"Sometimes even technology is used along with traditional printmaking techniques in order to result in layers of fine, skillfully juxtaposed images challenging old mindsets and archival thinking process," she said.

She further told The Express Tribune that the work featured in the show was very varied as it explored a wide array of themes and topics.

Hyat particularly credited Wani, a local printmaker from Islamabad, whose dedication helped in hosting the show. The artist said her soul forever belongs to Kashmir. "This is precisely the reason why influence of Kashmir is very evident in my work. I juxtapose my symbols with poetry of two mystics to form accounts of ascension of soul and mind, from false to true self. Sometimes the journey may seem rather difficult and challenging but once it is comprehended, it becomes the simplest and most pure form of understanding," she said.

The work of Sharma attempted to create awareness. She addressed not only the 'comfort' that we have associated with big brands, but also the persuasive 'male gaze' in advertising, where female body is used as an attraction for 'pleasure' of an absent male spectator.




Quite different from other printmakers, Searson's work related to a series of images, made on a trip to Poland in 2013. According to the artist, the images represent distance between then and now, by reflecting on how memory distorts and reinvents lived experiences, as we keep visions locked away in mind.

Khan's work, displayed among international artists, showcases beauty and ethnic colours of northern Pakistan. Her work uses vibrant colours, and she mentioned that she was constantly exploring new ways of representing ideas by transforming geometrical shapes, lines and textures into striking images of everyday beauty of cityscapes.

Hopkins stressed on structures and buildings to showcase urban environment with an emphasis on architectural shape and pattern. "Defying the perception of ugliness, my work reveals a warmth for city living and industrial landscape. Using experimental processes, hand-cut paper stencils and blocks of colour, I create screen prints which celebrate locations generally considered unsightly," stated the artist.

Ali's work revolved around self-healing and self-therapy. "I believe it is important to preserve both a healthy heart and mind that results in a positive influence on social life and surroundings," she said.

Sharma whose work showed human figures and other creatures in their gesticulations and departments gave the impression of characters of a dramatic enactment, set in a rather narrative mode. This is precisely what makes the work different from the rest.

The exhibition continues till September 26.

"What makes it special is that the reflection of personal experiences and memories of artists is visible. The work explores women and power, self-therapy and healing, essence of depth of soul with worldly experiences, consumerism, personal narratives, identity and pain of separation along with various social issues," said Hyat.

Published in The Express Tribune, September 16th,  2015.