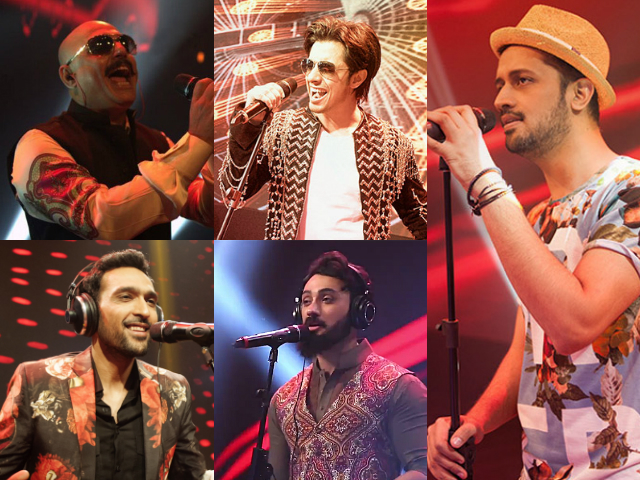 ---
KARACHI: Talent, good looks and a bold fashion sense -- these male singers were on point in the latest season of Coke Studio, and they're definitely en route to redefining the fashion landscape in Pakistan.

Impeccably dressed, Atif Aslam, Ali Zafar, Umair Jaswal, Ali Sethi and Ali Azmat outshone their female counterparts when they took the stage at Coke Studio 8.

Here is how these powerhouses are fast becoming fashion icons:

Atif Aslam

He has emerged as an all-rounder; great looks, amazing vocals, and a fantastic fashion sense. The Tajdar-e-Haram singer sported a clean look while performing a beautiful rendition of the iconic qawwali. His sleek hair, cream coloured embroidered shalwar kameez paired with a dark shawl add the perfect traditional touch. Retaining the spiritual element, Atif's attire perfectly complimented modern-day qawwali.




In Episode 3, he added an Urdu twist to Googoosh's Persian song Man Amadeh Am. Donned in a straw hat and a floral print t-shirt, Atif looked splendid.




Ali Zafar

As the title of his first Coke Studio 8 track suggests, Ali is a complete Rockstar. Designer Ali Xeeshan -- who is known to bring his regalia to the ramps — didn't fail to impress again. He dressed the singer in a gold embellished black jacket with dangling chains, the perfect fit for a Rockstar. The song itself took a dig at Ali's lifestyle. No doubt he suggested Ghalib to follow his "fashion sense" and don "designer's neela coat with gotay ka kaam and low neck banyan". Adding a twist to his  Elvis look were his edgy ponytail and aviators.




For his jazz number -- Ae Dil Kissi Ki Yaad Main -- Ali put his best foot forward. He looked dapper in a black suit and crisp white collared shirt. It seems that the rockstar's ponytail is something we are going to see for a while now.




Umair Jaswal

This powerhouse of talent is a living example of why our underground musicians should not be overlooked. Umair's career took a new turn when he emerged in mainstream media. This time around, the rock singer brought forward his A-game when he lent his vocals to Punjabi folk song, Sammi Meri Waar. Umair paired his ethnic-print waistcoat with a khaki slim-fit button-down shirt. Sporting a beard and signature rockstar wrist-bands, Umair definitely proves that he is the next big thing.




Ali Sethi

Usually, you will see a singer trained in classical music dressed in traditional attire. But Ali effortlessly performed his song in an uber-chic look. Who knew Fawad Khan's floral blazer at PFDC Sunsilk Fashion Week would catch on like fire? Ali proved that fashion-forward Pakistani men can make anything look good. Sporting a black and red floral jacket with a rugged look, the singer did justice to the classic Umran Langiyan and looked sharp while singing it.




Ali Azmat

Ali Azmat's comeback Coke Studio song, Rangeela, was nothing short of a treat for his fans. The singer has been sporting the bald look for quite some time now and is continuing to give his colleagues a run for their money (excluding HSY). The singer looked up-to-date with the latest trends as he donned a black Nehru jacket paired with a white shirt. What caught our attention was the ethnic motive on the sleeves that added the 'oomph' factor.




Let us know your thoughts in the comment section.
COMMENTS (8)
Comments are moderated and generally will be posted if they are on-topic and not abusive.
For more information, please see our Comments FAQ