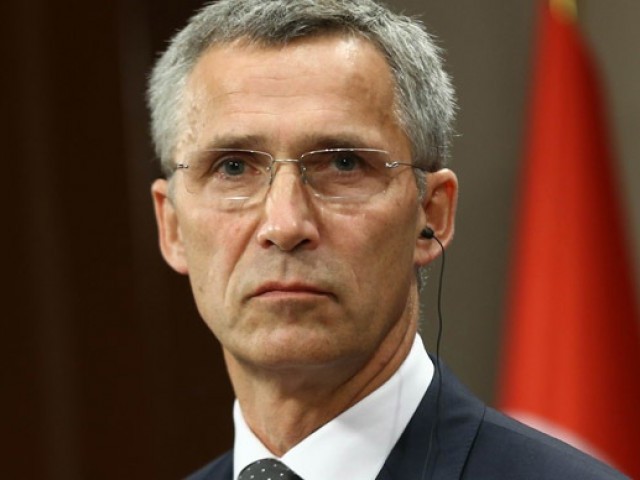 ---
VILNIUS: NATO on Tuesday activated command units in six central and eastern European members to boost defence amid regional tensions over Russia's actions in Ukraine, Lithuania's defence ministry said.

"NATO today officially activated NATO force integration units in Lithuania, Latvia, Estonia, Poland, Bulgaria and Romania," ministry spokeswoman Asta Galdikaite told AFP.

The Baltic nation's foreign minister Linas Linkevicius said the move was "a clear sign that NATO takes it's commitments very seriously".

"It is a clear message both to allies and, of course, opponents who have recently increased the tensions," the minister told AFP, without directly naming Russia.

NATO Secretary General Jens Stoltenberg will attend ceremonies in Vilnius Thursday formally inaugurating the string of units, an alliance statement said.

The six multinational units with around 40 officers each were set up to facilitate the deployment of the newly forged NATO rapid reaction force and coordinate military drills.

Read: NATO halves Baltic air policing mission

It is the latest NATO move to boost defences in the eastern flank since Russia annexed the Crimean peninsula from Ukraine last year.

NATO has increased the number of military exercises, deployed planes and ships while the US pledged to keep heavy weapons in the region that lay behind the Iron Curtain a quarter of a century ago.

Latvia confirmed Tuesday that two US Army Predator surveillance drones and 70 airmen had deployed to its Lielvarde Air Base for a training mission.

"They are here... they will be staying for two weeks for training purposes -- it is not a permanent deployment," Latvian Defence Ministry spokesperson Anete Gneze told AFP.

Intelligence training will involve two intelligence officers from Poland and each of the Baltic nations of Latvia, Lithuania, and Estonia.

The moves come less than two weeks after NATO opened a new Strategic Communications Centre of Excellence in the Latvian capital, Riga.

Though officials have been at pains not to describe it as a counter-propaganda centre, part of its brief is to analyse aggressive messages emanating from media operated by Russia.

The three Baltic states and Poland have also repeatedly called for a permanent NATO presence to deter Russia but the Western alliance has so far stuck to back-to-back troop rotations.

Critics contend that permanent military bases could breach a 1997 agreement with Russia and trigger an arms race as Moscow accuses NATO of closing in on Russia's borders.

Linkevicius insisted Russian military exercises have recently been much larger than NATO drills.

"We've repeatedly said our steps are not directed against anybody. We are only meeting the commitments to secure NATO countries and citizens," he said.
COMMENTS
Comments are moderated and generally will be posted if they are on-topic and not abusive.
For more information, please see our Comments FAQ