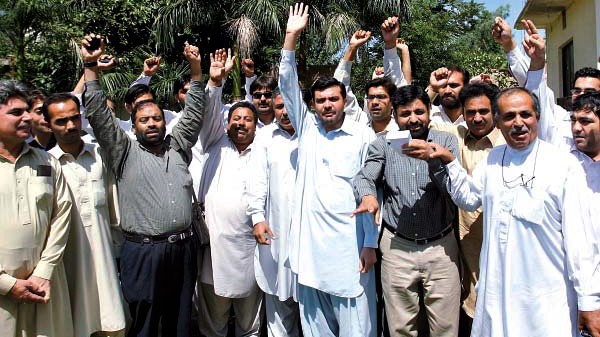 ---
PESHAWAR: Journalists staged a protest against alleged police highhandedness at the Peshawar Press Club (PPC) on Tuesday and announced a complete boycott of coverage of the Khyber-Pakhtunkhwa police.

Protesters chanted slogans against the city police for encouraging officials at police stations to torture and detain journalists and insult the public in the name of action against militants. They demanded that the chief minister, federal interior minister and IGP Khyber- Pakhtunkhwa suspend SHO Bhanamari Abid Ali and order an impartial inquiry against him for torturing and illegally detaining Umair Yasir, a TV channel reporter.

Earlier, journalists announced a complete boycott of the Khyber-Pakhtunkhwa police until the SHO was removed and assurance given that no insulting incidents would happen in future. In a meeting organised by the Crimes and Terrorism Journalists Forum (CTJF), the participants decided that they would hold a protest on April 30 and hold another one if their demands were not met. They also reiterated that the SHO must be suspended before an inquiry was conducted. A local court has ordered the arrest of the SHO but, according to the journalists, officials have not complied with the court's orders and transferred him to another police station.