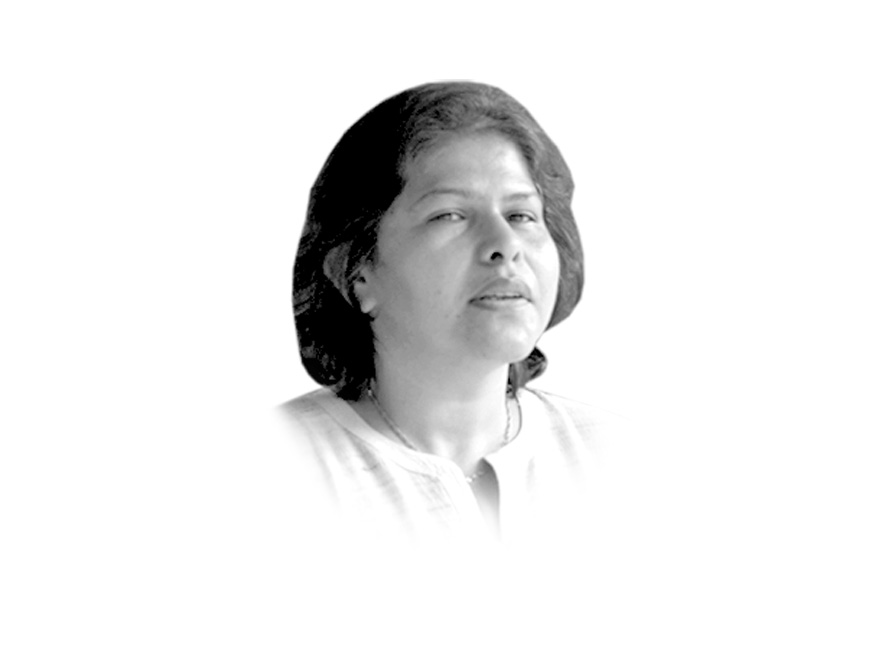 ---
The failed National Security Advisers' (NSA) talks indicate that Islamabad is now dealing with a different kind of government in New Delhi. It is unrelenting, unforgiving and cocky. Even Indians are surprised with its governance style in which institutions play second fiddle to the prime minister's office and his small coterie. Added to this is the confidence in itself, and that it can outmanoeuvre Pakistan at a troubled time when the US Congress has held back money under the Coalition Support Fund and Afghanistan is heating up again.

To quote Bahadur Shah Zafar: "It was never so difficult for me to converse as it is now/Your party never was like this as it is now."

Pakistan's possible concern regarding the NSA talks was that by not putting Kashmir on the talks agenda, an impression would have been created that Islamabad had ultimately been pressured by New Delhi to compromise on a core issue. So it had to put its foot down. So far, so good.

But then why did Sartaj Aziz not insist on including the Kashmir issue as part of the joint statement at Ufa in July this year? Although there is reference to discussing all "outstanding issues", the emphasis was on terrorism, and especially Mumbai. Is it that India wouldn't have agreed to include Kashmir on the agenda without solving the terrorism issue first? If so, Pakistan should have also stuck its ground and returned without any joint statement. An India-Pakistan meeting doesn't have to break ice all the time. Why this obsession with a joint statement, a problem observed in some high-powered track-II initiatives as well.

Perhaps, it was a slip up on the part of the Foreign Office bureaucracy. However, given the time Indo-Pak diplomats take thrashing out documents and the presence of a career diplomat like the present foreign secretary, such a mistake couldn't really have happened. Or maybe it was all the fault of the prime minister, as many loved to suggest after Ufa. Numerous commentators were quick to argue that Nawaz Sharif did not see eye-to-eye with the military when it came to India. Since it was his declared agenda to befriend the hostile neighbour, he had jumped yet again at such an opportunity without thinking about the significance of what was left out of the statement.

But was it really all Sharif's fault at Ufa? This would be tantamount to civil-military relations standing on their feet if we argued that a Pakistani prime minister, who had recently recovered from a rocky situation at home, would have felt confident enough to take control of foreign policy and security agendas so abrasively. Whatever the understanding of Sharif's intellectual capacity, he is certainly not suicidal enough to take such huge risks. Nonetheless, it is difficult to remove responsibility from his shoulders. He was the man in charge in Russia just like he was in the US, post-Kargil. Anyone arguing otherwise would be delving into conspiracy theories.

Revisiting Ufa gives one a sense of deja vu. Sharif was lambasted after Ufa as he was after Kargil. He certainly didn't emerge as the hero in both cases, adding to his political vulnerability then and now. In 1999, he was packed off to Washington with Pervez Musharraf's blessings along with a foreign secretary that Rawalpindi trusted. However, no one owned up to his peace agreement that later resulted in a political fiasco. A popular view in certain circles even today is that we would have won Kargil had Sharif not agreed to a withdrawal. Surprisingly, no one asks how an army chief, who did not take his government into confidence before launching a major offensive, so readily agree to pull back? But what is more important is the fact that the Kargil fiasco created space for Musharraf to move in. You can have a corrupt or even an inefficient head of government, but not one who is viewed as someone who compromises on national security. Interestingly, while Narendra Modi seems to have emerged from the Ufa-and-NSA cancellation fiasco relatively unscathed, particularly in front of his home crowd, the same can't really be said about Sharif. The image gleaned from television commentaries is, perhaps, that of a leader who eventually made the right move, but after being briefed by the army chief. This makes the government look ineffective and politically vulnerable. But let's not harbour such negative thoughts.

The American concern about growing India-Pakistan tensions acting as a possible pressure point on both sides at Ufa cannot be ignored as a background theme. Reportedly, not many people in India knew about the Ufa plan. So, Islamabad signing on to talks with the focus mainly being on terrorism must have been an unforeseen breakthrough for New Delhi. However, this was something Pakistan could not commit to later. A struggling political government is certainly not in a position to move beyond Kashmir, a matter that may get resolved in the longer-to-longest term, but not in the short-to-medium or medium-to-longer terms. The fact is that both sides have raised the political cost for themselves tremendously when it comes to talking to each other. They also believe that the cost of conflict can be unilaterally pushed up for the other side. This is a fallacy, especially as far as proxy wars are concerned. This reminds me of my chat with numerous realpolitik geeks, who justify the maintenance of proxies as a new strategic necessity. But then realism and power politics is about increasing the cost for the other, not your own. Publicly parading those who are recognised internationally as terrorists or being seen as linked to these elements has negative implications. Some battles can become expensive even before reaching the actual battleground.

Although necessary, peace talks are viewed as either a favour done to the other, or that they could result in undeserved and disproportionate benefits for the other side. This is not true. But given the attitude, tension is likely to rise, with there being greater temptation for showboating, testing of limits of the nuclear umbrella, and increasing the cost of conflict for the other side. Talks will only work when India and Pakistan cool their heels and do their homework on why they want to talk, before heading for the table. Makes greater sense to talk when you have something to say to each other.

Published in The Express Tribune, August 27th, 2015.

Like Opinion & Editorial on Facebook, follow @ETOpEd on Twitter to receive all updates on all our daily pieces.
COMMENTS (28)
Comments are moderated and generally will be posted if they are on-topic and not abusive.
For more information, please see our Comments FAQ