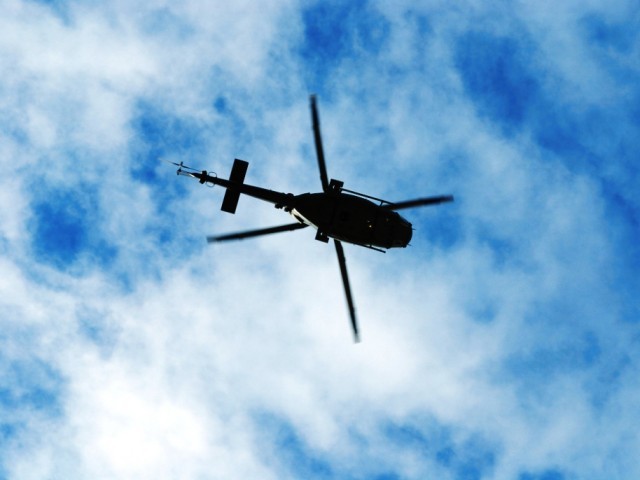 ---
PESHAWAR/ ISLAMABAD: The security forces on Tuesday made advances in Shawal Valley of North Waziristan Agency after Army Aviation helicopters decimated a training camp of militants and their ammunition dump.

The Inter-Services Public Relations (ISPR), the military's media wing, said in a statement that helicopter gunships targeted the hideouts of terrorists in the Gurbaz area of Shawal. "There are reports of several terrorists being killed," it added.

The air blitz was carried out as three soldiers were killed in a terrorist attack on a military checkpoint in the Ladha area of neighbouring South Waziristan Agency. A day earlier a senior officer and a soldier were killed in a gunfight with terrorists in Shawal Valley where the military last week launched the much-awaited ground offensive following weeks of air raids against the bases of suspected militants. Six terrorists were also killed in the firefight.

The densely forested ravines of Shawal and Datta Khel are popular smuggling routes between Pakistan and neighbouring Afghanistan, and are infested with hideouts of militants used as launch pads for attacks on Pakistani forces. The launch of the Shawal ground offensive heralds what appears to be the final phase of Operation Zarb-e-Azb launched in mid-June, last year.

The ISPR denied reports of Tuesday's attack in Ladha. But officials based in South Waziristan confirmed the attack and identified the slain militarymen as Jaffar Hussain, Muhammad Ghazi and Arsalan.

Azam Tariq, the spokesperson for a faction of the outlawed Tehreek-e-Taliban Pakistan (TTP), claimed responsibility for the attack. The group – headed by Khan Said, alias Sajna – had been in hibernation since the killing of TTP chief Hakimullah Mehsud in a US drone attack on November 1, 2013.

Senate panel briefing

The Senate Defence Committee visited Peshawar, where its members were briefed by the governor, CM and corps commander on the progress made under Operation Zarb-e-Azb, the anti-terror campaign, Fata TDPs situation and shelling from Afghanistan into Pakistan.

"The Senate Defence Committee was told that since 9/11, the Pakistan Army had suffered casualties of 4,354 Jawans and officers martyred, 14,552 wounded," said Senator Mushahid, adding that the committee was also briefed on the ongoing Shawal operation.

Published in The Express Tribune, August 26th, 2015.
COMMENTS
Comments are moderated and generally will be posted if they are on-topic and not abusive.
For more information, please see our Comments FAQ