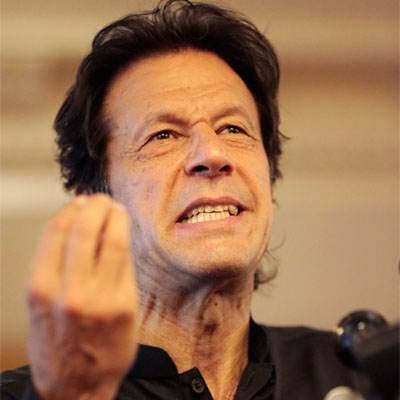 ---
ISLAMABAD:



Forty-eight hours after the election tribunal ordering re-polling in the NA-122 constituency, Imran Khan's Pakistan Tehreek-e-Insaf (PTI) is considering filing a reference in the Supreme Judicial Council (SJC) for the removal of four members of Election Commission of Pakistan (ECP).




The party's senior leader Ishaq Khan Khakwani, who is looking after PTI election matters, has submitted a written proposal to party chief Imran Khan, stating that four ECP members were responsible for the "miscarriage of justice" in holding the 2013 general elections which were not held as per the law.

"General election inquiry commission held the ECP responsible for many legal lapses (40 in all). These lapses made the entire 2013 elections non-transparent and unlawful. These lapses also reflected on the incompetency of the election commission and its bureaucracy. These were the findings of the three judges of the Supreme Court including the chief justice," says the two-page proposal.

Read: PTI condemns threats to Wajihuddin

The proposal also states that the present chief Election Commissioner, Justice Sardar Raza, faces opposition from his own four other commission members who were responsible for the neglect and omissions in implementing the laws governing the holding of general election. "No response from the election commission is therefore understandable but this state of affairs from a constitutional body is unacceptable for anyone in the general public and least of all from the PTI who is the second largest party in whole of Pakistan."

Khakwani, who was the head of the task force, has also recommended that the PTI is left with no option but to agitate against the issue on the public platform immediately.

"Besides the agitation, the legal recourse which may be considered is to move the Supreme Judicial Council as per Article 209 of the Constitution to try the four members of the Election Commission for their misconduct and willful complacency in not holding the general elections in the manner as defined in law", he added.

Sources revealed to The Express Tribune that Imran has started consultations over the proposal for filing a reference against the ECP members.

It has also been learnt that the top brass of the PTI is divided over the filing of reference as one section of the top leadership believes that in view of past judicial history, it's impossible that SJC will give verdict against fellow retired judges, who are presently performing the duty as members of the ECP.

Read: PTI's long wait ends: PML-N loses big wicket

However, another section of the party thinks that there is no harm in filing a reference against the poll supervisory members.

Earlier, PTI senior vice president legal wing Punjab in his individual capacity submitted a reference regarding the removal of the ECP members.

Published in The Express Tribune, August 25th, 2015.