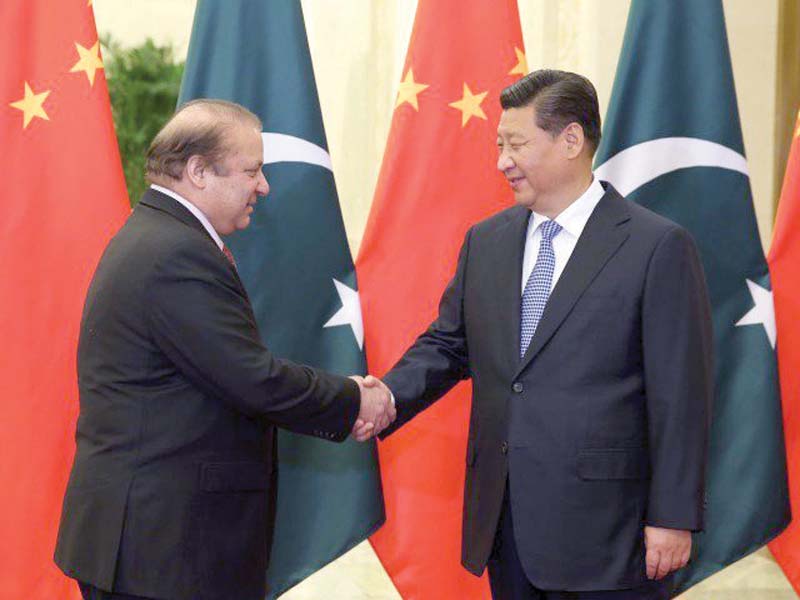 ---
KARACHI: Pakistan and China enjoy an all-weather friendship that has tested tribulations of geo-political and economic challenges.

Pakistan was one of the three countries that recognised Peoples Republic of China and both established embassies in their capitals in 1951.

On the trade front, Pakistan accorded the Most Favoured Nation (MFN) status to China in 1963 through a bilateral trade agreement which provided a level playing field to Chinese products imported in Pakistan. Since then, both countries have closely collaborated to deepen economic and trade relations.

Trade agreements

Bilateral trade links were further boosted during the visit of Pakistan's then president to China in November 2002 when both countries agreed to sign a Preferential Trade Agreement (PTA) that provided tariff preference to a limited number of products. The process moved forward when both sides signed a Free Trade Agreement (FTA) on the occasion of the Chinese President's visit to Islamabad in July 2007.

The FTA with China envisaged the gradual liberalisation of tariff on goods in various phases. In the first phase, which was from 2007 to 2011, both sides agreed on the elimination of tariff on 30% of the products. The second phase envisages liberalisation of tariff up to 90% of the goods from both sides.

The tariff concessions committed by Pakistan in the first phase of the FTA predominantly contained raw materials and intermediary goods. In return, China eliminated tariff on finished goods.

Read: Pakistan losing Chinese market after Beijing's trade deals

The government envisaged an economic integration model where Pakistan would import raw materials, components and intermediaries to boost domestic manufacturing and subsequently export these goods to China under the FTA at preferential tariffs.

In 2008, an incentive package for Chinese investors was included in the FTA to facilitate Chinese FDI in China specific investment zones in Pakistan.

To further enhance the width of the FTA, both sides also concluded a trade in services agreement where market access was agreed in a number of sectors by both sides.

The market access provided by China under the services agreement at that time was much more then China's WTO commitment as well as bilateral commitments with any other country.

Thus, Pakistan and China have laid a framework for trade integration that include elimination of tariff on goods, market access on services and promotion of investments.

The tariff liberalisation in the first phase has already been concluded in 2012 and now both sides have commenced negotiations for the second phase.

Reportedly, the negotiations are not progressing at a pace where both sides could see conclusion of these talks soon.

Concerns of local industry

One of the major impediments has been the concerns of the domestic industry in Pakistan that feels threatened from the competition of Chinese products.

The public sector is also apprehensive as elimination of custom duties would lead to substantial revenue losses as Pakistan heavily relies on taxation on international trade for revenue generation. According to the latest figures, 40% of the Pakistan's total revenue is from taxes on import of goods.

This obviously has created major challenges for the Pakistan's negotiating team to move forward with the negotiations. There are media reports that Pakistan has requested China to reconsider the tariff liberalisation done in the first phase instead of moving forward in the second phase of the FTA.

China is one of the most populous countries in the world and, according to IMF statistics, the world's largest economy in terms of purchasing power parity. China is also the world's fastest growing economy with a growth average of 10% in the last 30 years. China is also world fastest growing consumer market as well as second biggest importer in the world.

In 2014 China imported goods worth $2 trillion globally in which the share of Pakistan was just 0.2%. Similarly China's global imports of service in 2014 were $400 billion against Pakistan global exports of $5.5 billion where the services destined for china were quite negligible.

Read: Pak-China relations: Army chief vows to protect CPEC

Importance of FTA

Pakistan and China are natural trading partners. The territories comprising the present state of Pakistan were once part of the historic silk route connecting China with the West where merchants traded in various commodities such as spices, silk and porcelain. The China and Pakistan Economic Trade Corridor also relies on these opportunities to revive the ancient silk route to facilitate China's connectivity with the West.

Economists have empirically proved that there are more welfare gains in preferential trade agreements for countries that are natural trading partners.

FTAs create opportunities especially for countries such as Pakistan that lack competitiveness to enhance their exports in the markets of larger economies through trade diversion created by tariff preferences in the FTAs.

Such opportunities also make countries attractive for foreign direct investments where investors take advantage of market access openings for setting up manufacturing units for export to lucrative markets like China under the FTA.

The way forward for Pakistan is to bring the FTA framework which commenced in 2004 to its logical conclusion by completing the liberalisation of tariffs. There would always be losses and gains in the process but to capitalise on the opportunity that Chinese market provides, the price would be worth paying.

The writer is a civil servant with 20 years of experience on issues related to Pakistan's trade and development

Published in The Express Tribune, August 24th,  2015.

Like Business on Facebook, follow @TribuneBiz on Twitter to stay informed and join in the conversation.
COMMENTS (3)
Comments are moderated and generally will be posted if they are on-topic and not abusive.
For more information, please see our Comments FAQ