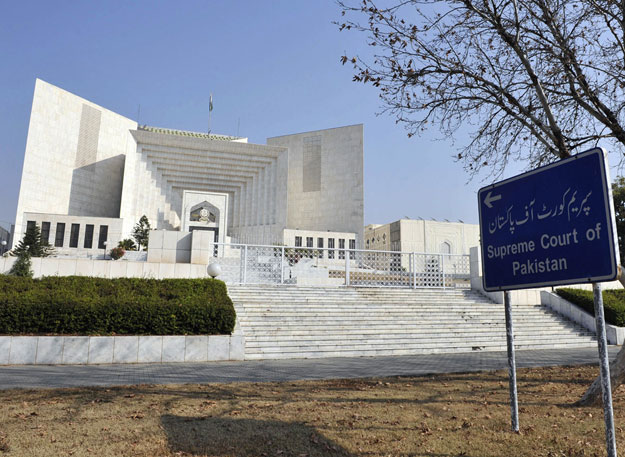 ---
ISLAMABAD:



The apex court has refused to accept a plea for ordering access to copies of all relevant documents of the proceedings pertaining to those convicted and sentenced to death by the military courts.




The SC registrar office returned the constitutional petition by raising the objection that the petitioner has not approached the concerned high court or any appropriate forum available to him under the law for the same relief, nor has he provided any justification for not doing so.

On August 8, the father of a man convicted by a military court approached the Supreme Court to direct the military court to provide copies of all documents of the proceedings so that a petition could be filed against the judgment.

Zahir Shah, father of Haider Ali, had filed the petition under Article 184(3) of the Constitution and listed the federation of Pakistan, GOC Malakand division, In-charge Interment Centre at Paithom, Guilibagh, Swat district, Khyber-Pakhtunkhwa government, Peshawar's Civil Secretariat, IG prisons and superintendent of District Jail Timergera as respondents.

Talking to The Express Tribune, counsel for the petitioner, Zulfiqar Bhutta, said they would file an appeal against the registrar office's order for returning the petition. "Our plea is entertain-able under Article 184 (3) of the Constitution," he said.

The petitioner contended that his son was about 14-years and eight months old (a minor boy) at the time of his arrest on September 21, 2009 and was a student of class 10 at Malakand Public School, Sirsani Kabbal, Swat.

He said this exercise on the part of military authorities was not supported by any of the existing civil or military laws but was in sheer violation of Article 4 and 10-A of the Constitution.

"[In the said article] not only fundamental rights are guaranteed but [it] is a natural law as no authority in the world can claim to go beyond the boundary of the law as well as claim to conduct cases of prisoners in violation of law as well as in unjustified manners," he said.

He said the legal right of the accused to file petition against illegalities of the military courts under 21st Amendment are not prohibited.

"Although the fact is that by avoiding to deliver necessary copies of documents to the convict … is departure from the fundamental right of the convict to be dealt with in accordance with law and is also against Article 10-A of the Constitution which guarantees fair trial," he said.

The Human Rights Commission of Pakistan (HRCP) is also considering filing a petition for ensuring fair trial as well as right of appeal to the persons, who have been convicted by the military courts.

Published in The Express Tribune, August 23rd, 2015.