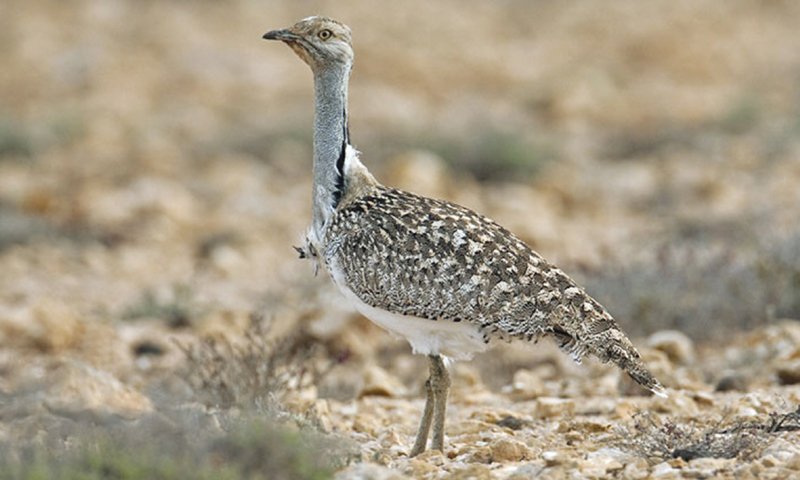 ---
In a welcome move, the Supreme Court has imposed a ban on the hunting of the endangered Houbara bustard. Principal among the dangers this migratory bird encounters are the hunters, primarily members of royal families of the Gulf states, who blow them out of the sky in depressingly large numbers. The hunters are here in Pakistan because licences to hunt have been issued by the federal government, but a three-member bench has ordered the cancellation of all federally issued licences — an unparalleled challenge considering the grovelling obeisance generally displayed towards these minor royals.

The petition against the illegal permits was brought by a private individual and the apex Court upheld it, saying that the right to issue such licences had passed to the provincial governments since the passing of the 18th Amendment. Furthermore, the apex Court curtailed the federal and provincial governments by rejecting the appeals they had filed. The Khyber-Pakhtunkhwa government had played a straight bat in refusing to issue a permit as asked by the Foreign Office, and the bench was appreciative of this decision. The bench also observed that both federal and provincial governments had not only violated local laws, but breached international agreements as well — all in pursuit of the 'goodwill' of assorted Gulf states. It is time to stop this odious practice, and recalibrate foreign policy in such a manner as to exclude the mass slaughter of an endangered migratory bird. The licences that the hunters have been granted invariably exceed the quota of birds they can kill, and the advantages they bring to local economies are fleeting, rather than sustained. The plea that "sustainable hunting" is possible, even desirable, is disingenuous. A foreign dignitary with a Houbara bustard in his sights cares not a jot or tittle for sustainability and blasts away the bird in the mistaken belief that its meat has aphrodisiac qualities even though there is no evidence to back this claim. It remains to be seen whether there will be compliance with the orders of the apex Court, but we wish the Houbara bustard a longer and safer life.

Published in The Express Tribune, August 21st,  2015.

Like Opinion & Editorial on Facebook, follow @ETOpEd on Twitter to receive all updates on all our daily pieces.
COMMENTS
Comments are moderated and generally will be posted if they are on-topic and not abusive.
For more information, please see our Comments FAQ