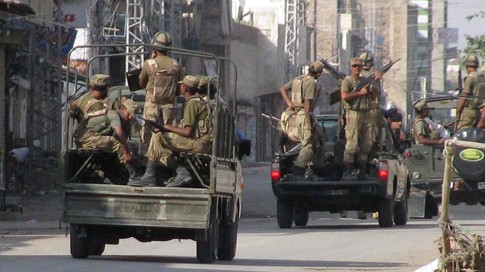 ---
ISLAMABAD: Just hours after jets pounded targets in Shawal area of North Waziristan, the army announced that it was commencing a ground operation in the region.

According to Director General Inter Services Public Relations (ISPR) Asim Bajwa, the ground operation was being carried out on direction of the army chief, adding that air and ground offensives should be coordinated.

Army chief General Raheel Sharif has directed that all military objectives should be achieved as soon as possible.


Ground Ops in Shawal,Waziristan begins.#COAS directs achievement of mil objectives asp.Commends ideal air&ground force coord for effects

— Gen(R) Asim Saleem Bajwa (@AsimBajwaISPR) August 20, 2015


Earlier on Thursday, air strikes killed 43 suspected militants near the Afghan border on Thursday, the military said, part of a major ongoing operation against Taliban and other insurgents.

The attacks took place in Gharlamai and Shawal areas of North Waziristan tribal region, where the army has been waging a major offensive to clear militant hideouts since June last year.

"Twenty-eight terrorists were killed in Gharlamai area and another 15 were killed in Shawal in precise aerial strikes," the military said in a statement.

Read: Airstrikes kill 25 suspected militants in North Wazirtistan

The conflict zone is remote and off-limits to journalists, making it difficult to verify the army's claims, including the number and identity of those killed.

Pakistan has been battling a homegrown Islamist insurgency for over a decade following the late 2001 US-led invasion of Afghanistan.

The Pakistan Army began a major campaign in North Waziristan in June last year and authorities have now vowed to intensify operations both in the border regions and across the country.

Read: Fresh air strikes kill 18 militants North Waziristan

Officials say nearly 3,000 militants have been killed since the launch of the latest offensive.
COMMENTS (11)
Comments are moderated and generally will be posted if they are on-topic and not abusive.
For more information, please see our Comments FAQ