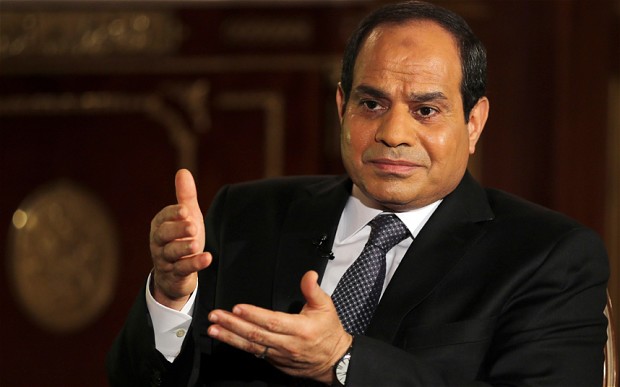 ---
Under pressure from militant insurgency, Egypt's President Abdel Fattah al-Sisi has boosted police and judicial powers with a new anti-terrorism law that also imposes hefty fines for "false" media reports.

Rights groups, who have accused Sisi of imposing a repressive regime since the army's ouster of president Mohamed Morsi in 2013, fear the new law could be used to further muzzle dissent and target critics.

The law was ratified by Sisi on Sunday, as Egypt faces a growing wave of deadly attacks, led by the Egyptian branch of the Islamic State group, on security forces and civilians.

The government sped up the passage of the law after state prosecutor Hisham Barakat was assassinated in a car bombing in late June, followed by a large-scale attack in the Sinai Peninsula days later.

It shields security forces from prosecution if they use force "when facing a real and imminent threat" while implementing the law.

It imposes the death penalty for those convicted of leading or financing "terrorist groups" and prison terms for those found guilty of inciting "a terrorist act".

Egypt's judiciary and security forces already had wide-ranging powers in tackling "terrorism" and Sisi's regime has been accused of using the battle against militants as a pretext for crushing dissent.

At least 1,400 people, many of them supporters of Morsi, have been killed in a crackdown on protests after his overthrow. Hundreds of Morsi backers have been sentenced to death after speedy trials and thousands more jailed.

The new law also targets the media, imposing fines for journalists found to be reporting information that contradicts official statements on militant attacks.

Read: Pakistan does not 'cooperate in anti-terrorism activities', claims Abdullah Abdullah

The military was infuriated after media, quoting security officials, reported that dozens of troops had been killed in the Sinai attack days after the prosecutor's murder. The military's official death toll was 21 soldiers and scores of militants.

The new law sets fines from 200,000 to 500,000 Egyptian pounds ($25,500 to $64,000/23,000 to 57,000 euros) for journalists who stray from government statements in publishing or spreading "false" reports on attacks or security operations against militants.

Critics say the steep fines may shut down smaller newspapers, and deter larger ones from independently reporting on attacks and operations against militants.

The government had initially proposed a jail sentence for offenders, but backed down after a backlash from Egyptian media.

The ratified law added another clause, however, allowing courts to "prevent the convicted from practising the profession for a period of no more than one year, if the crime violates the principles of the profession."

Government officials say the law requires proof of intent to publish false reports to secure a conviction.

But it is raising fears of further media prosecutions after three journalists with Al-Jazeera English were convicted last year of "defaming" the country and supporting the Muslim Brotherhood movement.

Read:Anti-terror efforts: Punjab monitoring all banned outfits

One of the journalists, Australian Peter Greste, has since been deported and a verdict in a retrial in the case is due by the end of the month.

Though criticised by rights activists, the law has been backed by many in Egypt who are demanding a firm hand to restore stability in the country of 87 million people.

Egypt has been struggling with unrest since then-army chief Sisi overthrew Morsi,  who become the country's first democratically elected president following the ouster of longtime ruler Hosni Mubarak, in 2013.

The government has responded with the mass trials of Morsi supporters, while his Muslim Brotherhood movement has been blacklisted as a "terrorist organisation".

Morsi himself has been sentenced to death for allegedly participating in prison breaks and violence against police. He launched an appeal of the verdict this month.

Militants loyal to Islamic State have killed hundreds of soldiers and policemen in attacks. The attacks have mainly focused on Sinai but have also taken place outside the restive peninsula.

Islamic State last week said it executed a Croatian hostage it had kidnapped west of Cairo, almost a month after it bombed the Italian consulate in the capital, killing a passerby.

Tomislav Salopek was working for a French oil company when he was abducted on a desert road outside Cairo.
COMMENTS
Comments are moderated and generally will be posted if they are on-topic and not abusive.
For more information, please see our Comments FAQ