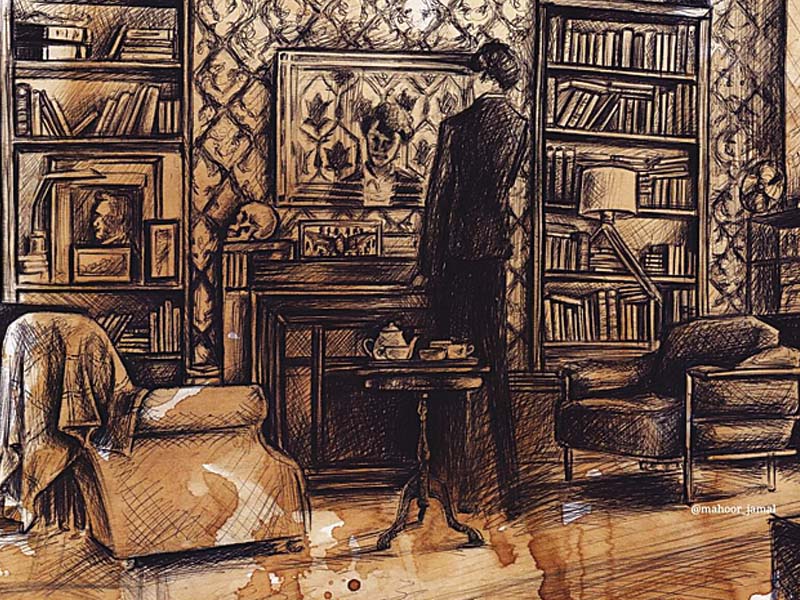 ---
PESHAWAR:



She's wearing a high-collared Victorian dress, washed in shades of cerulean blue. Eyes downcast, posture lank, she's a marionette for ravens. Black crows who yank her into position with the black strings tied to her narrow digits, strings the black crows control.




This is a photograph of a painting by Mahoor Jamal uploaded on her Instagram account when this article was being written; an Instagram account that is making a name for her in and away from the province full of contradictions. Her feed at first look is all eyes; eyes looking away, a gaze straight at you, blue eyes, hazel eyes—framed by glasses, luscious lashes—and then you notice the women behind the eyes and the fashion illustrations.

Green socks and bejewelled skulls

Talking to The Express Tribune, the 21-year-old does not open up easily. Even in the voyeuristic world of social media, there are only glimpses of Jamal's person. In an exchange of phone calls and emails, Jamal said her work was not limited to definitions. It was not confined "to a particular culture or place as all people follow fashion". Her illustrations and sketches are part of her journey to become a successful commercial fashion illustrator. "Who doesn't want to look better?" said Jamal.

The artist is the first in Khyber-Pakhtunkhwa to pursue fashion illustration as a profession. Fashion illustration or even fashion design have never been priority professions in Peshawar.

Besides a few private institutions, only the Department of Fine Arts at University of Peshawar offers courses in designing. However, illustration is not taught there. "I had to choose fashion designing as there is no institution that offers illustration,"
said Jamal.




Without proper tutoring or mentoring, Jamal gradually built on her skills and confidence by participating in art competitions. She said people's feedback and appreciation motivated her to keep on going, to work harder and come up with something better than her last portfolio.

Eventually, Jamal landed a gig or two and now she is working with a fashion designer as a freelance illustrator. "I get commissioned by others as well," she said. "Now my life is all about exploring new ideas and playing with pigments."

Her fashion references borrow generously from a spectrum—like most students—the Alexander McQueen inspired skull, Far Eastern headgear, plenty of throwbacks to Victorian high collars, and the odd smattering of Pakistani couture. And of course some young angst framed by warrior art. If anything has to be said about her skill, the power lies in her pencil. Her water colour washes, the pigments, all are scaffolded by strong lines.

What's fascinating about her repertoire is the glimpses of the oddity and the even rarer glimpses of her own world.  A pen and ink references a scene from a BBC production Sherlock, and way down the feed, there is homage to actor Benedict Cumberbatch, of whom Jamal is a "huge admirer".

Her influences are obviously not limited to the South East or even Peshawar. Her work breaks the ceiling on representation of women. Although not political, it is tempting to read into the bird cages, the marionettes, the woman in a blue veil arching an eyebrow in a sidelong glance. The women in her work break out of Pukhtun culture but then land on other stereotypes of beauty and form.




Although she tends to focus on women as her muse, Jamal said some of that is a result of the demands of her commercial clients. She also has sketches of men and landscapes but she admits those are not her expertise. "Though I have practiced subjects other than women, drawing women is my comfort zone and always my main area of interest," said Jamal.

Insta grammar

Her own harsh critic, like many artists tend to be, Jamal said she was not skilled enough with photography but she has learnt to play around with compositions when she posts her own work. "I have always taken a lot of inspiration from different Instagram accounts and then I also expand on the ideas," said Jamal.

That appropriation is evident in her portraits which are obviously mostly Caucasian or much like anime. She said she uses the internet or draws on her own imagination at times as a reference for faces.

Yes, but is it art?

It happens every decade, at the advent of new art movements; the medium or form is questioned. Photography still gets responses like, "But my nephew can take that with his phone camera."

Instaartists are relatively new, so there are not many standard definitions. Eventually these visual artists will make a mark by how their insta accounts create a narrative; how they choose to present a certain reality and even at times how they appropriate existing art through their Instragram photographs. Much can be said about how Instagram allows for adding that instant layer of expression through various tweaks and filters, and even more on how it's trivialising the art of photography; the formidable Jonathan Jones of the Guardian calls it,  "the amateur delusion of photographic art."

Nonetheless, Jamal straddles both worlds – the pencil and paper world of an artist and the instaworld. It is her work which is a refreshing offering from a city which tends to showcase work replete with cultural tropes. And there is her curation of her work – it's moody, it's interactive and possibly the best thing about it is that its young – meaning there is so much more the artist can do. Jamal has come far since her first post in May 2013.

Published in The Express Tribune, August 17th, 2015.