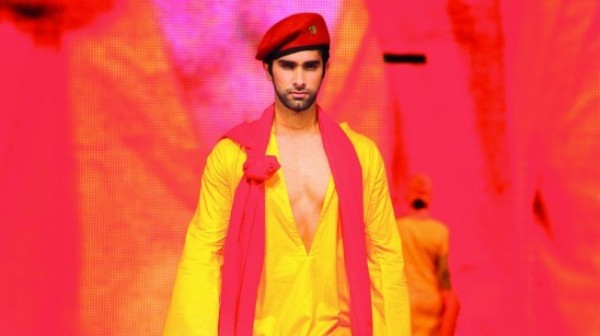 ---
KARACHI: Designers often say that they are inspired by many things - models, indigenous culture, a grandmother's wardrobe, traditions and weddings are just a few of the commonly cited ones - but the collections storming out of the fashion weeks during the first few months of the year have left one baffled.

Is fashion no longer about luxury and aspiration?

Look at the most brightly hued collections at PFDC Fashion Week: new entrant Ali Xeeshan, Yousuf Bashir Qureshi and Nickie Nina. But the common denominator was that they all looked like they had been cobbled together from leftover pieces of fabric, old rugs and heaped on with turbans and beads. Take a close look at any of the snake charmers plying their trade on the streets or the faqirs that live at shrines and you'll be convinced that the collections have been pilfered from their wardrobes.

Are designers no longer, as a former supermodel once said, trying to make us all look like bored housewives with perfectly straight hair and wardrobes featuring a smattering of diamantes?

While designers as eccentric as Vivienne Westwood have claimed that they were struck by inspiration struck straight off the street (Westwood was inspired by homeless people), one suspects that in the quest to infuse cultural references in collections, Pakistani designers may have taken it a bit too far.

Once you strip the styling from the clothes, there is little that is actually wearable.

Take for example YBQ's choice of loud colours - particularly the sunshine yellow and orange - that is too loud for work, too garish for a family dinner, and too elaborate for a night out with friends. However, the trend - even if designers claim they were inspired by the Mughals or by impoverished women - is a step above the already prevailing one of loose, flowing shirts with wide-legged trousers or harem pants.

The styling at these shows was reminiscent of Ather Hafeez and Sabeen Amer Ali's show at Fashion Pakistan Week in 2009, which was a riot of colour, culture and traditional influences like chunri and gota.

The trend looks like it is here to stay, so we may just as well embrace faqir chic. Help support the economy and buy extra yards of fabric, and tell your tailor you would like to drown in your kurta.

However, please let your clothes see the inside of a washing machine, and head to your nearest silver store - such as Taneez - to pick up a silver bowl to go with your ludicrous attire.
COMMENTS
Comments are moderated and generally will be posted if they are on-topic and not abusive.
For more information, please see our Comments FAQ