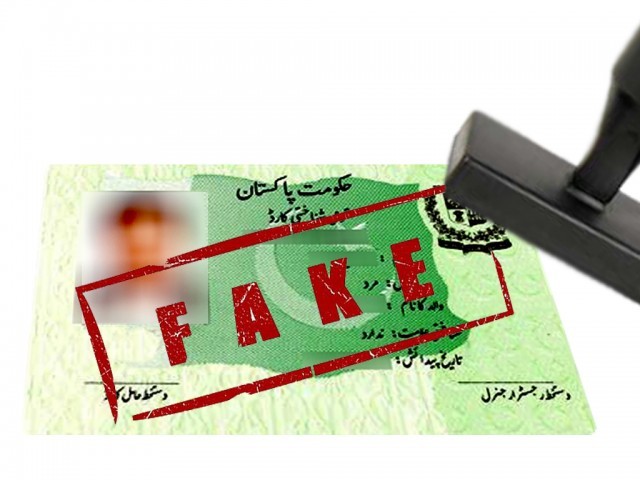 ---
ISLAMABAD:



The Federal Investigation Agency (FIA) has asked the interior ministry for help after the National Database and Registration Authority's (NADRA) Karachi offices refused to cooperate with investigators looking into the issuance of computerised identity cards (CNICs) and passports to thousands of foreign nationals.




Interior Minister Chaudhry Nisar Ali Khan had directed the country's premier probe body to investigate and take action against Nadra officials who helped some 5,000 foreigners, including terrorists, obtain fake identities and other documents. The Inter-Services Intelligence (ISI) named some 40 such officials, some of whom are ex-army officers serving at top posts in NADRA, to the authority's chairman recently.

Read: 'NADRA men helped terrorists get Pakistani identity cards'

Talking to The Express Tribune, a senior FIA official said the agency had to approach the interior ministry after Nadra officials in Karachi refused to help with the investigation. "Nadra Karachi refused to cooperate with investigators looking into the scam, so we have now sought the help of the interior ministry," he said.

Nisar, after being briefed by FIA officials, directed Nadra Chairman Usman Mobin to visit the authority's offices in Karachi to take up the issue, said an interior ministry statement released on Friday. He will be accompanied by senior NADRA officials on his visit, interior ministry officials said.

"The Nadra team [visiting Karachi] will present an audit report of all Nadra offices in Karachi to the interior minister within a week," the ministry's statement said. "On the basis of the team's findings, the ministry will take action against all corrupt officials," it added.

The Nadra director general for Sindh has also been directed to address public complaints by personally visiting various offices in the port city, interior ministry officials said.

When contacted, Nadra officials in Islamabad said they did not have anything to add to the interior ministry statement.

Read: Getting a fake ID

Earlier, the FIA arrested the in-charge and two other officials of the Nadra office in Karachi's Keamari area for issuing fake passports to detained Indian nationals last month. They were handed over to the FIA Human Trafficking Cell for further investigation.

Published in The Express Tribune, August 15th, 2015.