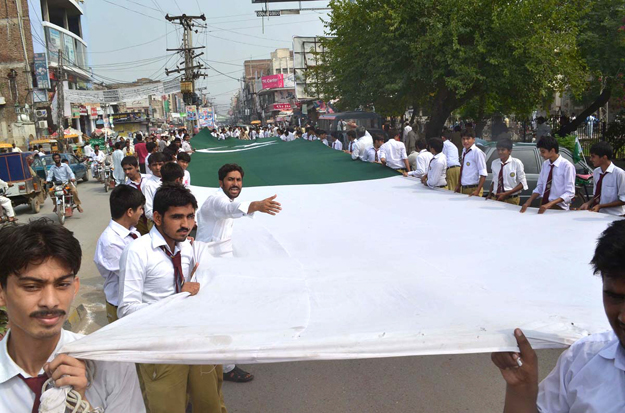 ---
FAISALABAD: Scores of people gathered at Clock Tower Chowk on Friday for the unveiling of a gigantic national flag put together by a martial arts teacher in Faisalabad.

The 5,000-feet-long and 32-feet-wide flag was prepared by Zohaib Hussain Shah.

The crowd stood around the flag and carried it in a rally.

Talking to newsmen, Naheed Kausar, a visitor, said he had never such a large flag.

"I cannot imagine the effort that must have been put into its preparation," he said.

Earlier, Shah told participants that he had spent four months working on the flag. "I could not have done it without my friends and supporters."

He said he had used 584 thans of cloth. He said the flag cost him Rs162,000. He said his students had painted patriotic messages on the flag.

Shah said he had made a 72-feet-long and 32-feet-wide flag four years ago. "My neighbours had enjoyed its exhibition on Independence day," he said.

He said next year, he would make the country's largest flag.

Published in The Express Tribune, August 15th, 2015.
COMMENTS
Comments are moderated and generally will be posted if they are on-topic and not abusive.
For more information, please see our Comments FAQ