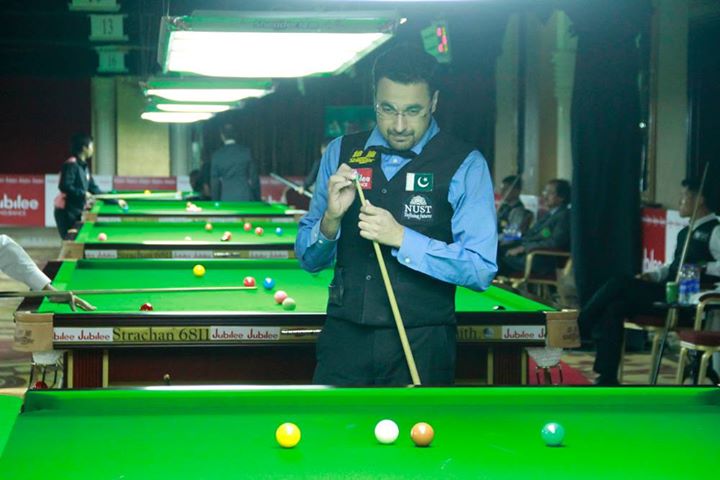 ---
KARACHI: It's an odd feeling watching competitive snooker. Picture a dingy room, out of place looking men and women in tuxedos with stern looks on their faces as if they were woken up from an afternoon nap for some incredibly boring affair.

It doesn't seem like their natural habitat. The quiet, polite applause — almost apologetic in its nature — after a nicely potted ball. The insistence of the game stretching out. "Oh god, when will it end," their faces seem to scream. And then when the match does finish, there is apparent relief. The opponents shake hands, maybe exchange a faint smile or two. The scanty crowd erupts in applause but it feels more formal than anything else.

Read: World 6-Red championship: Winner Pankaj Advani praises Pakistani hospitality

But you can't expect snooker to be fazed by this kind of talk. It knows what it is. You don't anticipate a glacier to move faster do you? And so you can't ask for snooker to be more exciting.

And that's when the odd feeling kicks in, especially when you're watching the game live for the first time. That's when you almost get why people choose to stand around a green baize table for a couple of hours at a stretch with sticks in their hands hoping to pocket balls of specific colours — why they choose to make a career out of this.

Read: All to play for as only four players remain

It's frustrating, it's challenging, it's a fierce battle of the minds, though the game also has a whole lot to do with luck. But when you meet the cueists, you gain perspective — the inside picture if you may call it that.

The IBSF World 6-Red Snooker Championships currently under way in Karachi told us a story we hear faintly from other sportsmen every now and then; stories about careers starting off as a hobby and then turning into something more tangible as time went by. This time however, the impact of the stories was different. We heard plenty of voices — from Europe and Persia, a few neighbourly ones, some from the Far East and some local. Their hobby remained their hobby and their background stories didn't matter. What did matter though was their commitment and their passion — the long-lasting kind.

'We have no support'

"We've been playing for around 20-25 years," Stephen Broadhead, one of the four cueists representing England at the event, told The Express Tribune. "We are not supported at all. We have full-time jobs and barely get time to train. If we're lucky maybe we get in some practice a couple of times a week. We teach ourselves, play county leagues and compete in big tournaments in our own country which are equivalent to the ones held by the IBSF. We play on a ranking system so our rankings helped us come represent England here."

Read: World 6-Red Snooker Championships: Asif keen on regaining winning form for mega event

These men play because they like to. Snooker is not as demanding a sport as others; you don't need to rely on a team, you don't have to be responsible for others, you can conveniently teach yourself and others can come along and help you out with techniques every now and then. And the dandiest thing of it all — these guys are actually pretty cool. You expect bored-with-life faces of men who have nothing better to do than stand around in a parlour with their sticks. You don't expect them to have personalities, to be so down to earth — to be funny and to crack jokes about using their wives' money.

'We play against male counterparts back home'

Then there was Tatjana Vasiljeva, the lone player from Latvia whose passion for snooker was the fuel that fired her determination to come all the way to Pakistan unaccompanied by any of her compatriots — male or female.

Vasilijeva has been potting balls for the past 14 years, and started playing competitively in 2006.

"We don't have a lot of women; maybe five, but their standard of playing is good," she said. "Normally we play against male opponents, so it's more interesting."

Read: Pakistan's time to shine: Cueing up for snooker laurels at home

The Latvian is coached by retired Welsh player Terry Griffiths, whom she visits sporadically to brush up her snooker skills.

Replying to a question about funding, she said, "Sometimes I get sponsors, but usually I use my own funds to participate in events."

Vasilijeva is very clear about her goals in life. "I want to spend all my life playing this sport. Plus, I have a licence to coach. I plan to open an academy in a few years' time, or maybe even next year."

The statuesque player lamented the absence of women in Pakistan snooker. "It's a shame that there were no women from Pakistan in this event," said Vasilijeva. "You get to travel so much, you meet other girls and socialise. It's a very good learning experience."

'Nothing to stop women from playing snooker'

Thirty-seven-year-old Vidya Pillai, born in Chennai, too had plenty of words to inspire, especially for the women.

"There shouldn't be anything stopping women from playing snooker," she began. "You don't have issues with clothes as you can dress as conservatively as you want. There is no age barrier or the need for early retirement unless your eye sight completely gives out. You don't even need to be physically fit!" Vidya laughed.

She makes a good point. And more so; it is the one sport you can continue playing while working.

'I teach to support my passion'

Iran's Soheil Vahedi credits his country's recent surge in the world of snooker to Manoj Kothari of India; the former world billiards champion who went on to becomes his country's chief coach.

"Kothari coached us about 10 years ago. We owe him a lot. He actually taught us 90% of what we know about the game," said Vahedi.

The former world U21 champion is a certified IBSF Master Coach and has been training the likes of Ng On Yee, the winner of the just concluded women's World 6-Red Championship.

Like many of the amateur cueists around the world, Vahedi works as an English teacher to continue living his passion for snooker. "We do have a federation, but Iran's current economic condition means that we have to finance our participation in events around the world ourselves, be it sponsorships or using our own resources," said Vahedi.

'Home support'

Hong Kong's Ng On Yee, who just became the new women's 6-Red champion, has come a long way with the support of her country and father.

"I've been playing for 12 years. When I was 13 my father taught me how to play as he was also a cueist," she said.

On Yee's country takes snooker very seriously. "We have the Hong Kong Sports Institute back home where they have three snooker tables for our training along with in-room fitness facilities," said the 24-year-old. "Our training room also has a camera to record our practice sessions. So at times when my coach is looking at other players and I have some problem, I can just replay my practice session and show it to him. We also have a psychology professional to help us out."

With all the facilities which a cueist can ask for, Hong Kong does seem a dream country for snooker enthusiasts.

'I work and still compete with professionals'

Shahram Changezi — one of our own. His story is similar to the ones already narrated. And yet you'll be surprised how something as seemingly boring as snooker can make people give long hours to the game.

"I've been playing snooker for 15-16 years now. However, I'm a full-time employee at NUST where I work from 9am to 6pm. Even with this routine, I still compete with professionals."

Despite several of his Pakistan teammates being supported by NBP, Changezi is not disheartened. He's still committed to the game more than ever.
COMMENTS
Comments are moderated and generally will be posted if they are on-topic and not abusive.
For more information, please see our Comments FAQ