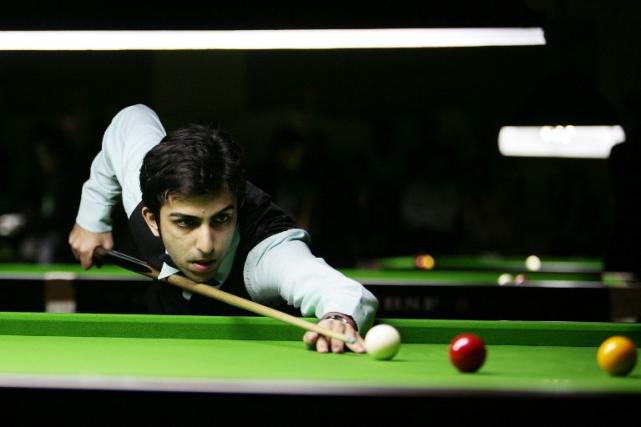 ---
KARACHI: India's Pankaj Advani successfully defended his World 6-Red crown by defeating Chinese teen sensation Yan Bingtao 5-2 in the final of the IBSF World 6-Red Championship at the Mövenpick Hotel in Karachi.

Bingtao is rated highly after becoming the youngest ever amateur champion last year, but Advani's experience showed as he eased to an almost perfect win with a scoreline of 37-21, 57-00, 32-29, 00-66, 08-38, 48-00, 75 (71)-00 and 40-28. "It's a great feeling to successfully defend my title, snooker is such an unpredictable game," said Advani, before going on to praise the event. "Great hospitality and event."

The losing finalist, Bingtao, was also upbeat despite being on the wrong end of the Advani masterclass. "I didn't even think I'd reach the final," he said. "I just came into this tournament hoping to learn and gain as much practice as I can in order to be ready for the professional circuit next year. It was great playing in Pakistan."

Earlier in the day, Advani was pushed further in the semi-finals by Pakistan's Asjad Iqbal, who led the match 0-2 initially, only for the defending champion to come from behind and take the match 5-4.

Asjad started off the match brilliantly to claim a two-frame lead before Advani came into his own and claimed the next three frames, going 3-2 up. Asjad levelled 3-3 and then 4-4 to take the topsy-turvy clash into a decider. Advani kept his nerve in the all-important frame to win 04-51, 07-56, 46-0, 36-01, 40-14, 10-53, 39-17, 0-59 and 52-14.

"There are good days and bad days and mine was the latter," Asjad told The Express Tribune. "I wanted to give the people of Pakistan a gift just before August 14. I apologise to everyone that I was unable to do so. The team event starts on Wednesday and we'll try to win that now."

Mohammad Asif was the other Pakistani semi-finalist who fell at the penultimate hurdle as he too was downed 5-4 by Bingtao in what was the match of the tournament so far.

Asif proved unstoppable in the beginning, winning three consecutive frames and leading 4-1 to leave himself just one frame away from the final.

The 15-year-old Chinese is made of sterner stuff though and pulled off a remarkable smash and grab by claiming the next four frames on the trot to make it to the final with scores of 03-51, 0-71(71), 0-46, 48-0, 13-48, 32-20, 67-30, 68-40 and 47-07.

After the match, Asif said he felt that he had played well and tried his best but it just was not meant to be. "The match was one-sided and going in my favour, but I ended up losing," he said, before also turning his attention to the team event, like Asjad. "The team event is starting from Wednesday so we will try our best to continue our form and win the title."

The experienced cueist also reserved praise for his young opponent. "Sajjad and Bingtao's match last year also went to the final frame and so did ours today," he said. "Bingtao is a highly skilled player and made a strong comeback."

Ng On-Yee wins women's 6-red title

Hong Kong's Ng On-Yee beat India's Vidya Pillai 5-2 in the final to claim the women's World 6-Red Championship.

The 24-year-old was understandably delighted. "I'm absolutely over the moon," stated an elated On-Yee. "I felt very nervous even though I've won this tournament before because Vidya is a very good player."

On-Yee defeated top-seed India's Amee Kamani 4-1 in the semi-final by scores of 18-61, 36-17, 42-08, 39-0, 50-0 and then thrashed Kamani's second-seed compatriot Pillai by scores of 44-00, 36-02, 37-07, 46-11, 07-39, 01-38 and 37-06.

"I'm really frustrated about the way the game went," said Pillai. "I just couldn't get the balls to go in and once she was 4-0 up, I knew there was very little I could do. I'm grateful to the PBSA for their hospitality. The event was well-organised, the security arrangements were great and I'm surprised more players and countries didn't show up."




IBSF World Team Championship begins

As the dust settles on the World 6-Red event, the IBSF World Team Championship will kick off on Wednesday, with as many as 33 pairs vying for the title.




Hosts Pakistan have fielded eight teams, including former World Team Champions Mohammad Asif and Mohammad Sajjad.

Meanwhile, Shahram Changezi will pair with Babar Masih after original partner Hamza Akbar withdrew from the competition due to his involvement with the professional circuit.

However, Shahram is confident that his team can do well.

"Even though Hamza has been ruled out, I'm confident that our team is good enough to fight for the title," Shahram told The Express Tribune. "The performance of Pakistani players has been really good so far in the tournament so great things can be expected from us."

Published in The Express Tribune, August 12th,  2015.

Like Sports on Facebook, follow @ETribuneSports on Twitter to stay informed and join in the conversation.
COMMENTS
Comments are moderated and generally will be posted if they are on-topic and not abusive.
For more information, please see our Comments FAQ