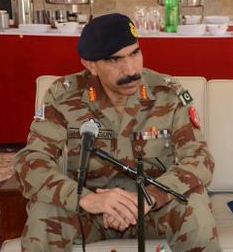 ---
QUETTA: Inspector General of Frontier Corps (FC) Balochistan Major General Sher Afgan said on Monday that spy agencies including India's Research and Analysis Wing (RAW) and Afghanistan's National Directorate of Security (NDS) were fueling terrorism in Balochistan to destabilise Pakistan.

Addressing the journalists at FC Headquarters on Monday, IG FC Balochistan said there had been a sharp decline in incidents of terrorism in Balochistan following the targeted operation of security forces against terrorists. He added that the operation would continue till terrorism is eliminated.

"The incidents are comparatively less than last year," he said. "Besides the Kalat and Turbat incidents, there were no major incidents of terrorism that took place, neither any railway track or train was attacked," he argued.

He, however, acknowledged that they had faced problems in Turbat, Gwadar, Dera Bugti and Panjgur. But insisted that there was complete peace most parts of the province.

Read: Balochistan's development is top priority: Nawaz

Maj-Gen Afgan added that a number of terrorists had either been killed or had been arrested in recent months and vowed that the operation would continue against the militants who do not surrender.

He added that that the people of Balochistan had rejected those who were fueling terrorism in the province.

Replying to the question about foreign involvement in the region IG FC said Indian Intelligence Agency RAW and Afghan secret services NDS are backing terrorists in Balochistan. "We have achieved major targets in preventing foreign influence," he claimed.

"Unfortunately enemies of Pakistan had been using our people against our state but we have been fighting against RAW and NDS because now people are standing with their forces," he added.

Talking about FC's efforts in Balochistan, he said that 50,000 troops in as many as 58 wings had been working in the province. In addition to providing security, the force had been operating 36 schools in the province.

"We are working to enhance our educational program in remote parts of the province that would be helpful to educate children," he said.

Read: Meeting with governor: UNHCR lists projects completed in Balochistan

Talking about the recent visit of Prime Minister Nawaz Shairf to Balochistan, Maj-Gen Afgan said the premier had approved an amnesty package for Balochistan.

"Around Rs1.5 million would be given to the rebels who lay down their arms," he added.
COMMENTS (12)
Comments are moderated and generally will be posted if they are on-topic and not abusive.
For more information, please see our Comments FAQ