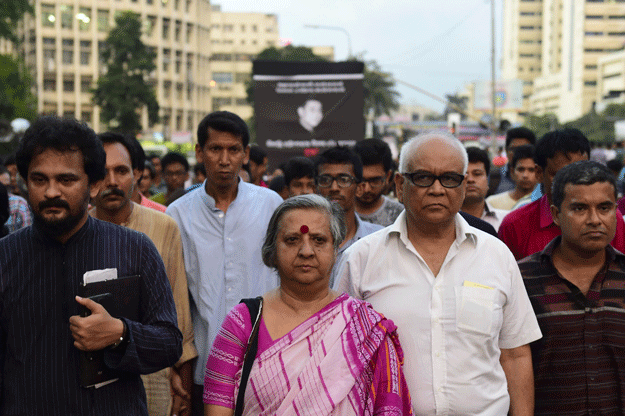 ---
DHAKA: Secular activists expressed outrage Monday after Bangladesh's national police chief warned bloggers they faced jail for posting material deemed offensive following last week's machete murder of a secular writer.

Inspector General of Police AKM Shahidul Hoque warned bloggers in the officially secular but Muslim-majority country against hurting religious sentiments.

"No one should cross the limit," Hoque said on Sunday in comments to reporters carried in major newspapers on Monday.

Read: Bangladesh vows to 'hunt down' secular blogger's killers

"And for hurting someone's religious sentiment, the person will be punished by the law," Hoque said, adding that the maximum punishment is 14 years in jail.

A gang armed with machetes hacked to death Niloy Chakrabarti, who used the pen-name Niloy Neel, at his home on Friday, the fourth such murder in Bangladesh this year.

Activists accused the police chief of siding with the killers instead of better protecting bloggers who were living in fear.

"I really want to ask the police chief: how could he justify murder, being in a position of a top law enforcer?" blogger Imran H. Sarker told AFP.

Read: Fourth secular blogger hacked to death in Bangladesh

"Such comments go straight in favour of the killers," Sarker said.

Berlin-based atheist blogger Asif Mohiuddin voiced outrage in a post on Facebook, saying the government's only action so far has been to threaten to "punish the freethinker bloggers with 14 years imprisonment".

An online petition was also launched by an unknown group seeking Hoque's resignation, saying the comments sent "a disastrous message to both writers and Islamist extremists in Bangladesh".

The government has been criticised for failing to protect secular bloggers, many of whom have gone into hiding since the first attack, while some have fled the country.

Chakrabarti is the fourth secular blogger to be killed since February when Bangladeshi-born US citizen Avijit Roy was hacked to death in Dhaka.

In a Facebook post in May, Chakrabarti said he had been followed by two young men, but police had refused to register the complaint and instead advised him to leave the country.

The Bangladesh branch of Al-Qaeda in the Indian Subcontinent (AQIS), Ansar al-Islam, claimed the killing and warned of more to come, according to monitoring group SITE.

A spokesman for the police chief defended his boss, saying although freedom of speech was enshrined in the constitution, bloggers "should speak responsibly".

Spokesman Nazrul Islam told AFP that freedom of religion was also protected in the constitution.

"Hurting either of these two would be labelled an infringement of the law," he said.

Top Islamic cleric Fariduddin Masuod slammed the bloggers for creating unrest. "Unfortunately, many so-called free-thinkers are abusing their rights of freedom of speech and are thus creating anarchy," he told AFP.
COMMENTS (2)
Comments are moderated and generally will be posted if they are on-topic and not abusive.
For more information, please see our Comments FAQ