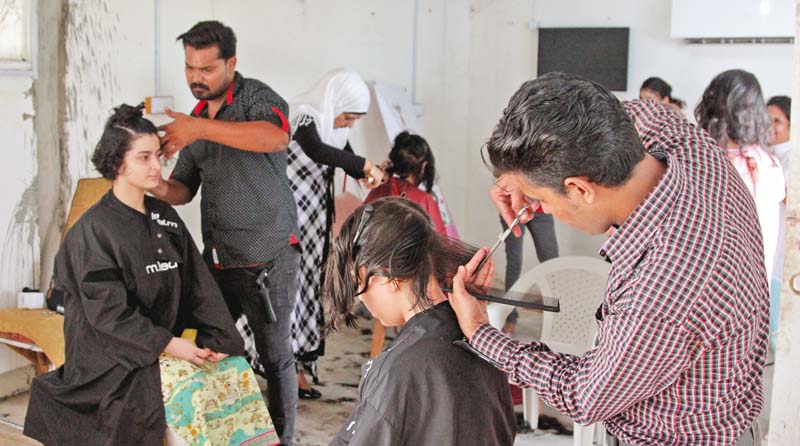 ---
KARACHI: Not many people give getting their hair cut much thought. As the hair is combed, straightened and snipped off, with what seems like part of any mechanical and mindless duty, they have only have a vague sense of where this hair actually goes and the wonders it holds. Capturing this potential for castaway hair, Syed Fahad Ali came up with an idea to get the most use out of it by giving someone the chance to live a normal life.

Developing wigs for patients with cancer and other illnesses, who lose their hair during their treatment, is something that is widely practiced internationally. Taking inspiration from abroad and realising that there is not enough moral support for cancer patients in Pakistan, Ali initiated this campaign three years ago. "Wigs, although made locally, can cost as much as Rs15,000 for medium length hair. While synthetic wigs are an option, they result in rashes and get overheated in the sun. There is a lot of demand for wigs among patients and children in Pakistan," he said.

According to Ali, the head of a small team of 30 members who call themselves the Pakistan Youth Forum (PYF), the criteria for hair donation rests on the length of hair. Twelve inches of hair is the minimum requirement, as the size of an adult wig is adjusted around the same measurements.  Six to eight inches of hair is required for children's wigs.

Ali explained that, at first, they used to get wigs made from Chennai as the cost was as cheap as Rs1,000 per unit, but over time issues at the customs increased and they had to consider China as an alternative. "We don't approach big companies but rather go for small scale factories in China," he explained to The Express Tribune.




Owing to the demand of these wigs, the group of volunteers receives several emails for wigs both for adults and for children from three to 12-years-old. "Among women, the affectees are mostly of breast cancer. Wigs are provided once we have ensured a doctor's prescription as these are adjustable and received by us in raw form," he said.

Rifza Faheem, a university student and a volunteer at PYF, said there is nothing that offers more happiness and peace than to give this gift to unprivileged people.  In one of the campaign drives, teenage girls lined up to donate their hair to what they believe is a worthy cause.

"I got a haircut a few months ago," stated Zareen, flaunting her freshly cropped hair for the cause. "This [hair] is way shorter than what I usually carry, but mine can always grow back in no time," she adds, grinning impishly.

Ali, on the other hand, finds criticism as a major impediment for the work he is involved in. "Yes, awareness has spread over the years, as we receive three donations per week, but so has unwanted criticism and negativity. We are trying to get a fatwa out in written form from the ulema as people rebuke [the campaign] endlessly in religious context," he lamented.

"We approach school and college-going kids regularly to convince their mothers and sisters to go for regular checkups. Go for early detection of the disease. Then you wouldn't need a wig in the first place," he cautioned.

Published in The Express Tribune, August 10th, 2015. 
COMMENTS (1)
Comments are moderated and generally will be posted if they are on-topic and not abusive.
For more information, please see our Comments FAQ