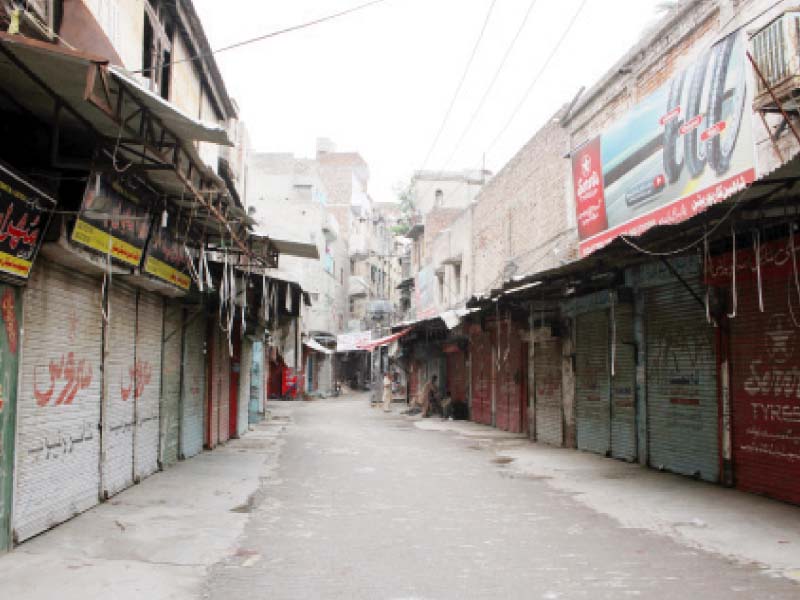 ---
LAHORE:



Traders across the city observed a shutters-down strike on Saturday against the imposition of a withholding tax on banking transactions of Rs50,000 and above for non-taxpayers.




There was no business activity in most major markets including Shah Alam, Akbari Mandi, Moti Bazaar, Rang Mahal, Badami Bagh, Abid Market, Bilal Ganj, Anarkali, Liberty, Township, Bund Road, Brandreth Road and Jail Road.

However, some businesses were reported open in Urdu Bazaar, Wapda Town and Defence Housing Authority and on Shalimar Link Road.

The strike call was given by the All-Pakistan Anjuman-i-Trajiran (Naeem Mir group). It was supported by Anjuman-i-Tajiran (Ashraf Bhati group), Qaumi Tajir Ittehad (Sheikh Mushtaq group), the Lahore Trader Alliance, the Lahore Tajir Group (Khwaja Amir), the Pakistan Small Traders and Cottage Industry, the Lahore Car Federation and the Qaumi Tajir Ittehad (Khalid Mehmood group).

All Pakistan Anjuman-i-Tajran (Khalid Pervaiz group) had opposed the call to start the strike from August 1. It had called a strike from August 5.

Talking to The Express Tribune, Naeem Mir said traders had set aside concerns about loss of business and decided to proceed with the strike. He said they rejected the withholding tax and appealed to the government to withdraw it. "The tax will promote undocumented economy. It will not help in broadening the tax net," he said.

He warned the government not to take the strike lightly. "Our peaceful protest may turn violent if the government refuses to reconsider its policy on the matter," he said.

He said his association was receiving suggestions on future plan of action from traders across the country. He said he would announce its plans on August 4.

Mir said its options included laying siege to the offices of the Federal Bureau of Revenue (FBR), suspending public transport across the country and blocking major inter-city roads for traffic. He said they could also continue the shutter-down strike for an indefinite period.

He said they had suggested the FBR to survey markets for undocumented businesses rather than imposing a tax on banking transactions. "We have assured them of our help with the surveys," he said.

Another suggestion floated by the association was that traders report their wealth to the FBR. In return, they should not be asked to pay tax arrears, he added.

"We are not tax evaders. Use of coercive means [for tax collection] is unacceptable. We want to enter the tax net in a respectable manner," he said.

He said the government should look into reform of the tax collection system.

Pakistan Small Traders and Cottage Industry president Babar Butt said the industry was already suffering because of the energy crisis. "The tax on banking transactions will make matters worse for us," he said.

Published in The Express Tribune, August 2nd, 2015.
COMMENTS (2)
Comments are moderated and generally will be posted if they are on-topic and not abusive.
For more information, please see our Comments FAQ