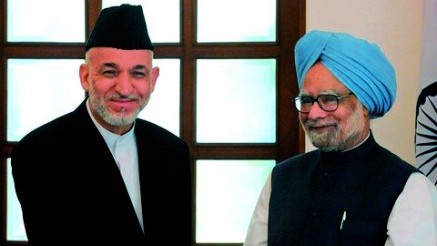 ---
NEW DEHLI: Afghan President Hamid Karzai met Indian Prime Minister Manmohan Singh on Monday and discussed his efforts to reach out to the Taliban for a negotiated settlement.

The Afghan president landed in India on a two-day visit at a time when India fears any Afghan plan to broker a deal with the Taliban will undermine its security and give Pakistan greater influence in Kandahar. "We discussed... reintegration and reconciling of those elements of the Taliban and others who have accepted the Afghan Constitution, who are not part of al Qaeda, who are not part of any terrorist network," Karzai said after talks with Manmohan Singh.

Karzai has proposed a plan to reintegrate low-level fighters back into Afghan society and also sought to reconcile with senior insurgents provided they give up weapons. An immediate breakthrough is unlikely, analysts say, pointing to previous offers to reintegrate fighters that failed to make much progress. The Taliban have also rejected any offer of talks saying foreign forces must first leave Afghanistan. "The prime minister and I discussed the situation in Afghanistan, the situation in the region and our common struggle against terrorism and extremism," Karzai said reading from a statement.

The Afghan president will be travelling to Bhutan on Tuesday to attend the Saarc summit where the prime ministers of India and Pakistan will also be present and could meet, Indian Foreign Minister S M Krishna said on Monday. "I am not ruling it out," the state-run Doordarshan channel quoted him as saying in Thimphu, the capital of Bhutan, of a possible meeting between the leaders of India and Pakistan. The rivalry between India and Pakistan has extended to Afghanistan where the two are battling for influence. New Delhi saw a militant attack on a Kabul guest house that killed six Indians in February as a signal of efforts to reduce New Delhi's influence in Afghanistan.

It was the third major attack against Indian interests in two years. "I conveyed to President Karzai that the perpetrators of such attacks will not succeed in undermining India's commitment to assist the Afghan people," Singh said in his statement. India has several developmental projects in Afghanistan, including construction of power lines and highways worth $1.3 billion. NDTV has reported that apart from talks on security measures, Prime Minister Singh was extended an invitation to visit Afghanistan by Karzai, which Singh has accepted. No date however has been finalised as yet.
COMMENTS
Comments are moderated and generally will be posted if they are on-topic and not abusive.
For more information, please see our Comments FAQ