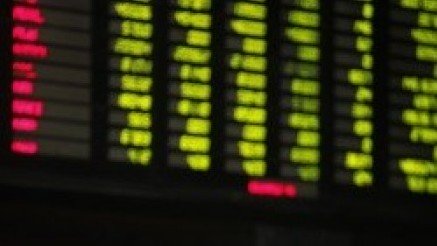 ---
KARACHI: Stocks ended lower as investors booked profits at higher levels and dealers said the market was likely to consolidate around current levels because of a lack of any positive triggers.

The Karachi Stock Exchange's (KSE) benchmark 100-share index fell 0.48 per cent, or 50.66 points, to end at 10,556.37. "It's a good time to book gains right now and we are not expecting a positive rally in the next few weeks," said Omaer Sheikh, head of sales at Ismail Iqbal Securities Ltd. Dealers said investors were cautious because of uncertainty regarding the fifth tranche of an International Monetary Fund (IMF) loan. The IMF board will likely meet in mid-May to consider the next tranche of Pakistan's $11.3 billion loan, a source close to talks between IMF officials and Islamabad said on Friday.

The IMF's board had originally been scheduled to meet on March 31 to approve the next portion of the emergency package, which was first agreed to in November 2008 to avert a balance of payments crisis and shore up reserves. "After declining by 0.5 per cent last week, the market opened on a positive note on Monday, but later witnessed some weakness," said Faiza Naz, an analyst at JS Global Capital. Trading volume fell 18.5 per cent to 125.45 million shares compared to Friday's tally of 153.86 million shares. Second-tier stocks stood as volume leaders while some activity in the oil, cement and banking sectors was also witnessed and as a result the total exchange value stood at Rs3.7 billion. During the day's trade 188 stocks closed higher, 226 stocks declined and 17 stocks remained unchanged in value.

TRG Pakistan (KSE: TRG) was the volume leader with 15.4 million shares gaining Rs0.01 to close at Rs6.32. Azgard Nine (KSE: ANL) came second with a meagre 6.3 million shares losing Rs0.52 to close at Rs15.3. Jahangir Siddiqui and Company (KSE: JSCL) finished third with 6.2 million shares losing Rs0.62 to close at Rs 21.16. "There was activity in Engro Corporation and Arif Habib Securities amid anticipation of higher earnings for the period ended March 31, 2010," said Faiza. Engro Corporation's (KSE: ENGRO) share price rose 0.38 per cent to Rs209.74. Arif Habib Securities's (KSE: AHSL) stock price grew 1.91 per cent to Rs48.47.

The companies are due to announce their results this week. "There was a major sell-off of Adamjee Insurance shares after its result announcement, as the company posted belowexpected earnings of Rs2.2 per share," said Faiza. Adamjee Insurance Company's (KSE: AICL) share price fell 1.38 per cent to Rs109.68. Lakson Tobacco Company (KSE: LAKST) was Monday's KSE-100 top gainer of the day, its share price rising 5 per cent to close at Rs214.92. KASB Bank (KSE: KASBB) was in the losers list dropping a massive 11.25 per cent to Rs4.18. NIB Bank (KSE: NIB) closed in the red, its share price shedding 4.37 per cent to close at Rs4.82.