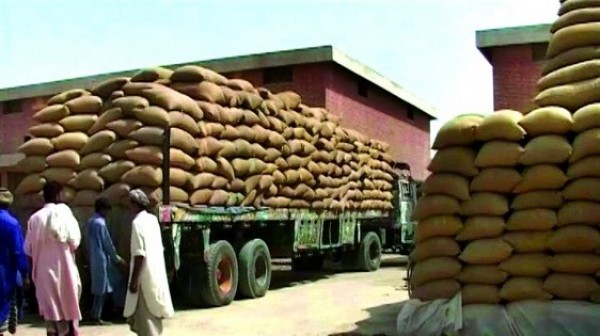 ---
DAHARKI, GHOTKI: Farmers across Sindh are protesting that the wheat crop is being smuggled to Afghanistan again this year because of corruption in the ranks of the food department.

A farmers action committee in Daharki, fed up with red-tape, held a protest on Monday against food inspectors who are supposed to provide them official sacks for their crop. These sacks are meant to be distributed free to farmers but the protestors have alleged that officials are charging them up to Rs150 a bag. According to the system, farmers take the sacks, fill them and exchange them for the set government price of Rs950 per 40kg at procurement centres.

The government will not accept wheat any other way. But because of corruption, the farmers cannot afford to pay for the sacks and their harvest is left to rot in the sun. The Sindh Hari Committee has accused food inspectors and other officials of blackmarketing the sacks. The officials are also less than available. "It is a feat just to find their office," the farmers complained. Former city nazim of Ghotki, Mian Manzoor Ahmed, agriculturist Mian Riyaz, grower Sarwar Shir all told The Express Tribune that they had been in search for a Food Inspector for one week. "We have met all conditions set by DCO Ghotki but we still don't have the gunny bags," they said.

When farmers are unable to sell the wheat to the government, brokers turn up at their farms and buy up the crop at lower rates. As the price of wheat is higher in the Punjab and Afghanistan, smuggling becomes a lucrative business, complained the haris, who are getting the short end of the stick. "The government should impose Section 144 at the borders to stop this illegal trade," said the haris. They gave the example of a raid held a few days ago on a trader's cotton factory where the police found more than 20,000 sacks of wheat with 8,000 marked by the government stamp.

The Food Department of Sindh has said there are 21 centres where farmers can sell their wheat in five tehsils of Ghotki that has an allocation of 1,900,000 sacks. However, the haris complained that the food inspectors have sold or distributed the sacks to influential wheat traders. Some of them said that the officers aren't even on duty. Another protest was arranged at the Daharki press club by farmers Sher Muhammad Chachar, Abdul Jabbar Shir Ali Nawaz and Asghar Bhutto.

They said that wheat traders from the Punjab have started buying wheat in the rural areas of district Ghotki for as low as Rs800. EDO Revenue Pervez Ahmed Billo told The Express Tribune that they had received complaints and had reported these irregularities to senior officers.