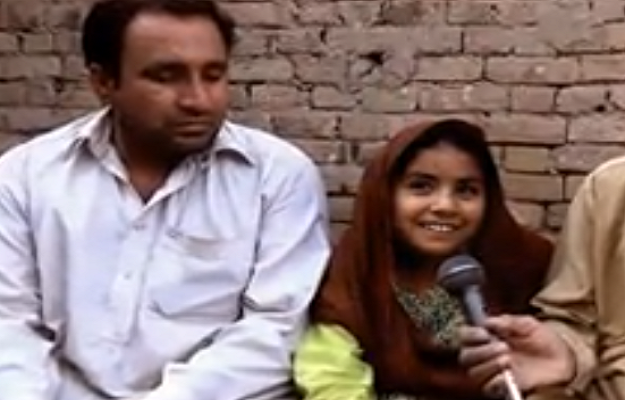 ---
PESHAWAR:



It was a typical Sunday afternoon on March 1 and 10-year-old Ayesha was playing outside her house. Daily labourer Sobat Khan's eight children, three boys and five girls, had all grown up playing in the streets – a common sight in Ahmad Khel neighbourhood on the outskirts of the city.




The girl went missing. Her family ran from pillar to post in search of Ayesha who was nowhere to be found. Exhausting all efforts, Sobat approached Badabher police for help. Little was expected of any police investigation, nonetheless an FIR was registered. Seven agonising days went by and the police were still chasing shadows.




Then a miracle happened; the family received a phone call from Kabuli police station.

Intelligence agencies had intercepted a phone call; the kidnappers had called someone and shared that they had been arrested. The intelligence agencies told passed the information on to a Kabuli police official, who told Ayesha's family she had been sold in Afghanistan. That her kidnappers had been arrested and were locked up in Jalalabad jail.

Read: 545 children killed in Afghan conflict last year: UN report

Finding Ayesha

The police showed little interest in actually finding Ayesha. Weeks had gone by and the family wasn't even sure if she was dead or alive. All they knew was someone bought their daughter from people who were in the custody of the Afghan police.

Borrowing money to pay for the journey, Ayesha's brother Saeed and their maternal uncle Reham Sher travelled all the way to Jalalabad – the capital of Afghanistan's Nangarhar province – to rescue the child. Police told them a Pakistani woman and two Afghan men were involved in the kidnapping.

"We instantly recognised the woman. She was a neighbour of ours," said Saeed. He added a photo of his sister was on the woman's cell phone.

Jalalabad to Khost

The woman had taken Ayesha to Khost, a neighbouring province, in search of a potential buyer. There she came across a local Malik who bought Ayesha as a child bride for his son, a practice common on both sides of the border.

Once the Malik was located, the deal was as simple as returning something over the counter but so much uglier – reimburse the money and take your daughter home.

"We gave a friend Rs0.2 million to buy Ayesha back," said Saeed. After he was 'reimbursed' for the life of a child, the Malik, instead of sticking to the deal and returning Ayesha to her family, handed her to the police. "We were informed that she had been recovered and was with the police in Jalalabad," her brother said, adding the family once again rushed to the city.




Throughout this duration, the family which could not afford much to begin with was shelling out money for food, for motels and for transport. This was in addition to all the money they ended up paying to officials, the Malik and others.

In Jalalabad, Afghan police officials refused to even let Saeed and Sher meet Ayesha. They allegedly demanded a reward for her safe recovery. "We paid them Rs20,000 but they still did not let her go," he said.

Read: Children in FATA: How to stop the making of child soldiers

After trying for days, the family knocked on the Pakistani consulate's door in the city. And much to their relief, the office was not only able but also willing to help Ayesha out of police custody.

"They were very hospitable and even gave us Rs6,000 for the journey back home," Saeed added.

After witnessing hell for 99 days, Ayesha finally arrived home on June 8. The family is unaware of what came of the accused back in Afghanistan. "We know our neighbours were involved in the kidnapping. They are now threatening us with dire consequences," Saeed said, hoping the perpetrators will be brought to justice some day.

No surprises

Caravan's Khalid Ayub said such kidnappings are carried out regularly.

"We dealt with another such case when a 10-year-old girl was abducted from Hashtnagri and sold to a man in Jhang, Punjab in 2007," he told The Express Tribune. After undergoing a scarring five years, she was reunited with her parents in 2011, he said.

Ayub was of the view Afghan refugees were involved in cross-border kidnappings and child trafficking. "They abduct daughters of the poor who have little access to the media or police," he said. An Afghan refugee, Ramzan, was involved in the case he had narrated.

"The girl told us she was kept in a room with at least eight other girls who were awaiting similar fates. The kidnapper raped her and later sold her in Punjab," he said. "The abduction of minor girls is a major concern and even more alarming is the fact that societal stigmas keep parents from reporting such incidents."

As many as 40 instances of women and girls being abducted in Peshawar were reported with the police so far in 2015 – actual numbers palpably soar higher.



Published in The Express Tribune, June 30th, 2015.