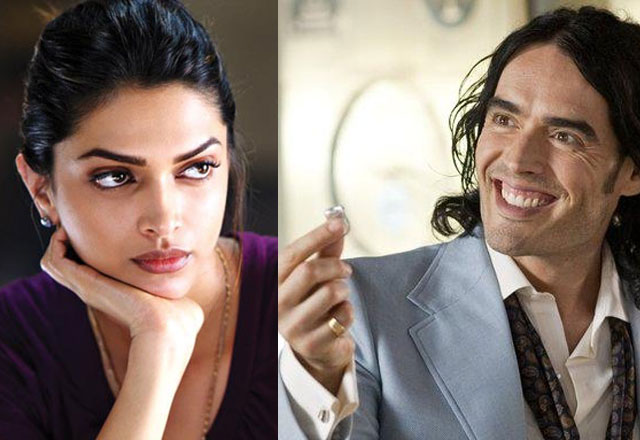 ---
Famous actor and comedian Russell Brand who recently performed in India at the Comedy Central Chuckle Festival, said he can "fall in love with" Deepika Padukone during his stay here. 

Russell was nothing less than jovial and lively at the festival. He talked about Bollywood, traffic in India and even joked about his short-lived marriage to singer Katy Perry.

"I have never performed in India, unless you call my marriage a performance… In fact, there are a lot of Bollywood films that last longer than my marriage," Russell joked as he began his performance.




The two had a lavish wedding in Rajasthan in 2010, only to divorce 14 months later.

He then went on to joke about Bollywood, expressing a desire to be like Salman Khan and Shah Rukh. After mentioning a list of people he would like to be like, he said he wanted to try and seduce Bollywood beauty Deepika Padukone.

"The person I could potentially fall in love with and marry while I am in India is Deepika Padukone," said the British comedian.




"If by the end of the night I am not arrested or censored, we are going to look and see if I can perhaps seduce Deepika Padukone," he further joked.

The 40-year-old seemed adamant to contact Deepika and asked the crowd for her number. "If anyone has her phone number, let me know, we can ring her in the course of the evening."

But his jokes didn't just stop there he went on to make fun of the traffic in India.

"You people honk so much… as if devastation is coming. You are better when in an auditorium than on the road," said the actor who has been to India thrice so far.
COMMENTS (2)
Comments are moderated and generally will be posted if they are on-topic and not abusive.
For more information, please see our Comments FAQ