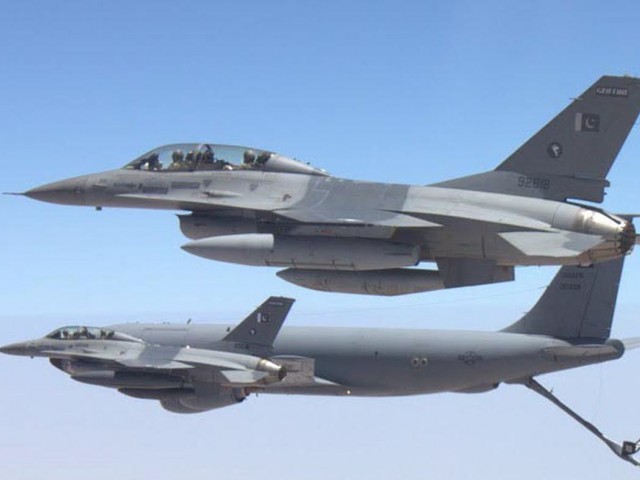 ---
ISLAMABAD/ BANNU/ JAMRUD:



At least 27 suspected terrorists – including four foreigners – were killed in fresh air strikes near the border with Afghanistan in North Waziristan and Khyber tribal regions on Sunday. Over 2,800 terrorists have been killed since the launch of Operation Zarb-e-Azb in North Waziristan in mid-June, 2014 and Operation Khyber I & II in the volatile parts of Khyber Agency four months later.




Officials said at least 15 suspected terrorists were killed and three others injured in what local tribesmen described as one of the most intense aerial bombardments in Shawal Valley since the start of Operation Zarb-e-Azb.




Warplanes targeted the hideouts of suspected terrorists in Gurbaz and Dabori areas of Shawal between 2am and 3am Sunday morning. Local tribesmen reported at least three vehicles on fire following the blitz, while officials claimed several bases of terrorists were decimated.

Separately, terrorists attacked a security check post in the Ghalamai area of Shawal Sunday evening, a security official said. One soldier was killed and three were wounded in the attack, he added.

According to the military, most areas of North Waziristan have been cleansed of terrorists and now an operation is under way in the thickly forested areas of Shawal where terrorists are holed up after fleeing from their former strongholds elsewhere in North Waziristan.

On the first anniversary of Operation Zarb-e-Azb, the military had said that the offensive was in its final phases, but it refused to give a firm deadline for its completion. Military officials say a timeframe cannot be given due to 'strategic' reasons. They, however, claim that Operation Zarb-e-Azb has successfully dismantled sanctuaries of terrorists and their command and control structure.

North Waziristan was considered a hotbed of local and foreign militant groups until June 15, 2014 when the military decided to launch Operation Zarb-e-Azb to purge the region of terrorists and re-establish the writ of the state.

Elsewhere in the tribal belt, fighter jets pounded the hideouts of suspected terrorists in the Rajgul area of Khyber Agency's Tirah Valley, security officials said, adding that 12 terrorists were killed and several wounded. Tirah is a remote valley which borders Nazyan district of eastern Afghan province of Nangarhar.

Officials said Sunday's bombing was part of a massive ground operation in which security forces have wrenched back the control of some strategic heights. The operation in Tirah was launched following reports that terrorists fleeing Operation Zarb-e-Azb had been sheltered by Mangal Bagh Afridi, the chief of the outlawed Lashkar-e-Islam militant group.

Officials confirmed the casualties, saying that four hideouts of terrorists were destroyed in the air raids. The military's media wing, ISPR, said in a statement that huge ammunition dumps were also destroyed in Khyber strikes.

Army chief General Raheel Sharif recently visited Khyber Agency and vowed to apprehend terrorists, their facilitators and financiers in order to achieve the objective of a 'terror-free Pakistan'.

In its annual report on global terrorism, the US State Department acknowledged that the ongoing military offensive in North Waziristan and Khyber agencies had severely dented al Qaeda's presence in South Asia.

"Al Qaeda's presence in the [South Asia] region continued to face pressure from international, Afghan and Pakistani forces, and Pakistan's ongoing offensive in North Waziristan Agency  [has] further degraded the group's freedom to operate," stated the Country Reports on Terrorism 2014, published by the State Department.

"South Asia remained a frontline in the battle against terrorism [in 2014]… [But] pressure on al Qaeda's traditional safe haven has constrained its leadership's capability to communicate effectively with affiliate groups outside of South Asia," it said.

The report noted that Pakistan's military conducted 'significant counter-terrorism operations' in North Waziristan and Khyber agencies, while the country's law-enforcement and security agencies carried out raids in the country's provinces.  "Security forces intercepted large stockpiles of weapons and explosives, and discovered bomb-making facilities and sophisticated telecommunication networks," it said.

Published in The Express Tribune, June 29th, 2015.