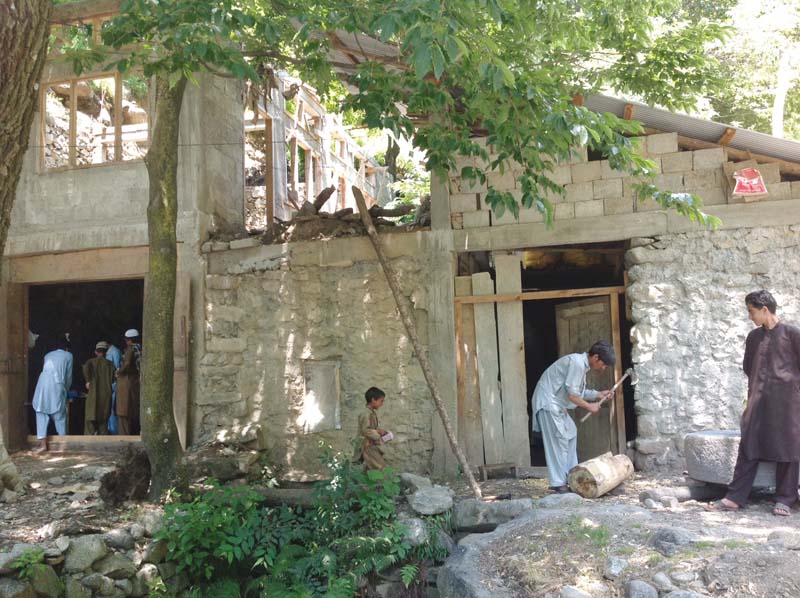 ---
MIANDAM: Working on a water shaft and wheel, Hazrat Hussain and Hazratullah are not in any hurry to complete the job before they lose power. Outages are common elsewhere in the province but these two know they have their own power supply to rely on. 

The brothers have used a two-centuries-old watermill made by their forefathers to cater to their entire community's electricity needs in Miandam union council in Khwazakhela, Swat. They produce power for Rs200 per house, per month for nearly uninterrupted supply. The community does get power from the national grid, but few rely on it.

The power plant was set up four years ago and since then power outages are a rarity for the 50 households in the area. "Even if load-shedding happens, it is just once in a year – that too because of a fault or floods," Hussain told The Express Tribune. He added fans and even irons run on power supplied by the converted mill.

"Just like other consumers, those who use this plant sometimes default on their Rs200 dues but we do not have surcharges on late bills like the government," he quipped.

Hussain said he spent Rs0.4 million to construct the power generation plant where he uses a 15-kV power generation unit to produce 11KW of power that is supplied to houses from early evening till early morning. There is little demand for power during the day as it is bright and few fans are used as the area is cold but if someone requires the brothers say they can provide the electricity.

From flour to electricity

Once upon a time, locals would use this watermill to grind maize and wheat but now it is mostly used to generate power for domestic and, sometimes, commercial purposes.

Hussain said they still sell maize and wheat flour grinded at the mill and the flour has a special quality – the taste does not change even if it is stored for a year. "It is unlike flour produced at power mills which deteriorates in quality after a month."

Hussain also owns a tailoring shop, which runs on the mill's power supply.

A happy community

When asked if he used electricity from the plant, Rahmatullah, who was also present, said he has given up on all other options for power.

He said his village Swato Khwar, in Miandam UC, has Wapda power poles installed since the last 15 years. He had applied for a meter eight months ago but is still waiting, much like the 200 houses in his village, residents of which had paid money for meter installation.




However, Rahmat said, he was relieved to have the option of being connected to this power plant. He was happy to get electricity for Rs200 a month throughout the year, even in Ramazan.

Another local, Akhtar Hussain, said the power supplied by the plant was cheaper than Wapda which takes thousands of rupees every month, even when the hours with load-shedding exceed hours with power. "Using the plant we do not have any worries about surcharges in case we pay the bills after the due date."  The only issue was voltage that sometimes drops when the water level goes down, added Akhtar.

"When a convenient option is possible then, why does the government not install cheap power generation plants on community basis, plants which locals can maintain on their own?" questioned Hussain. These plants, he added, do not require large funds and do not take long to build. "However, such initiatives have not been taken by the government due to a lack of sincerity on their part."

Published in The Express Tribune, June 29th, 2015. 
COMMENTS
Comments are moderated and generally will be posted if they are on-topic and not abusive.
For more information, please see our Comments FAQ