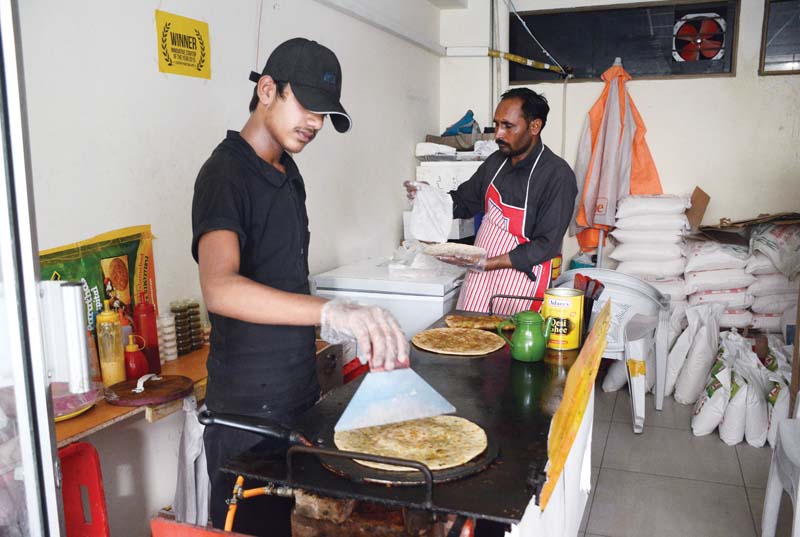 ---
ISLAMABAD: They say it's not about ideas, it is about making them happen and that there is nothing like turning your passion into your work. This is precisely what street food enthusiasts Waseem Siddiq and Sabeeha Waseem did recently when they opened "Paratha Party" in Sector E-11.

Launched in the end of 2014, the food joint became an instant hit, which speaks volumes about the quality of the place.




The paratha stand serves not just the traditional aloo, cheeni and vegetable varieties but also has rather unique options on offer such as barfee paratha and nutella paratha, which are quite the hit among locals, a salesperson at the outlet said.

The barfee paratha, which has never been heard of in the capital before, is absolutely delicious with a taste of fennel seed and a rather thin layer of sweet to make it crispy and appetising.

The Nutella paratha is another hit particularly because of the near universal fondness for the chocolate.

Paratha Party also serves various other varieties such chicken masala, garlic, cheese, chicken cheese and several others along with rolls such as seekh kebab roll, chicken tikka roll, chicken fajita roll and shaami roll, which is another universal favourite at food stands across the city.





The stand serves aloo, cheeni and vegetable parathas along with rather unique options such as barfee paratha and nutella paratha. PHOTOS: HUMA CHOUDHARY/EXPRESS




The rather cool and unique food stand also serves a variety of traditional and modern smoothies and drinks including mango lassi, chocolate lassi, strawberry lassi, falsa lassi and mint lassi in addition to doodh patti and coffee.

What sets this particular food stand apart from the rest is that not only it has made the traditional paratha sound rather cool but it also offers its customers with frying options that include desi ghee, butter and olive oil.

It is this innovation and exceptionality of Paratha Party that made it win the award for the innovative startup of the year 2015 by the Startup Pakistan Expo.

In a conversation with The Express Tribune, Waseem Siddiq, the brain behind the startup, said he and his wife had always been fans of street food. "We are constantly on the lookout for delicious yet healthy street food and nowhere in Islamabad could we find parathas that satisfied our taste buds. Therefore, we realised that there is an uncontested market space in Islamabad that should be used and we opened Paratha Party," he said.

Siddiq further said that McDonalds and KFC were global brands today just because someone made a burger and fried a piece of chicken. "If a burger and fried chicken can have the power to attract the entire world, why can't a paratha? It is just about bringing it out in the open and making the public develop a taste for it," he said, which also shows how these entrepreneurs believe in the power of their culture and traditional food.

"Initially, it was an experiment but it has become such a hit that we plan to open 14 street food joints across Islamabad by 2017. Our strategy is three pronged; firstly we believe in looking around to find food chains that originated from homes and get inspired from them. Secondly, we hit and try; failing and creating new items is part of the deal and finally we hope to expand across the city and eventually the country," he further added.





The stand serves aloo, cheeni and vegetable parathas along with rather unique options such as barfee paratha and nutella paratha. PHOTOS: HUMA CHOUDHARY/EXPRESS




Siddiq mentioned that he drew inspiration from the "Blue Ocean Strategy" published in the Harvard Business Review.

He gives immense credit to his wife who handles the entire production and product development. "My wife decides what flavours to introduce and she makes them herself at home, which are then taken to the stand. This ensures that the parathas are made in a hygienic environment and are healthy for our customers," Siddiq added.

Paratha Party is not just a great place to go and have parathas or order in from but it is also an inspiration for all those who want to jump into entrepreneurship and begin a rewarding startup.

Published in The Express Tribune, June 29th, 2015. 
COMMENTS
Comments are moderated and generally will be posted if they are on-topic and not abusive.
For more information, please see our Comments FAQ