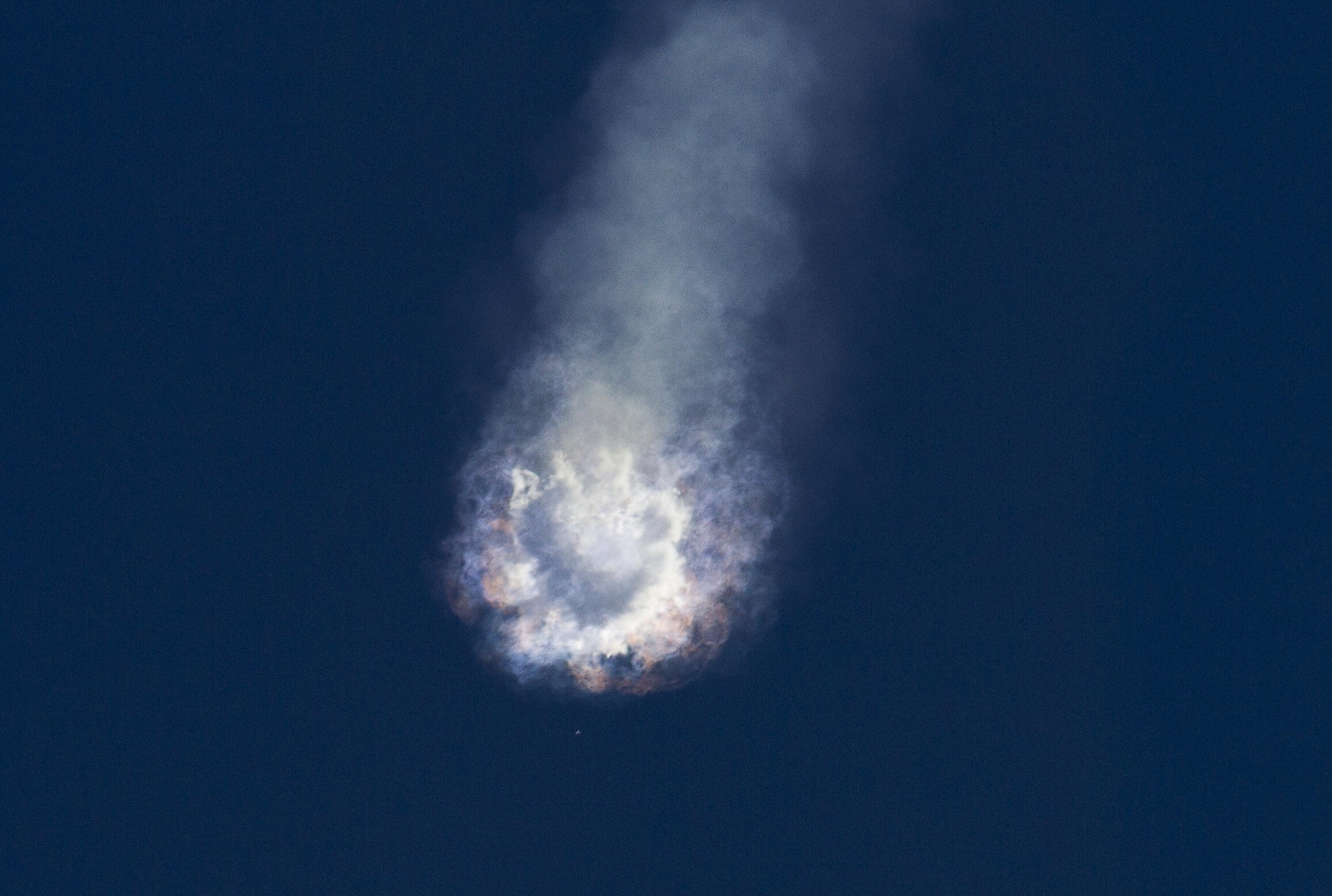 ---
MIAMI:
A SpaceX Falcon 9 rocket exploded minutes after liftoff from Cape Canaveral, Florida, following what was meant to be a routine cargo mission to the International Space Station.
#SpaceX explosion this morning 2 mintus after launch. #Falcon9 pic.twitter.com/XaxVZFBKfr

— Brad Panovich (@wxbrad) June 28, 2015


"The vehicle has broken up," said NASA commentator George Diller, after NASA television broadcast images of the white rocket falling to pieces.

"We appear to have had a launch vehicle failure," Diller said.

"At this point it is not clear to the launch team exactly what happened."


The range confirmed that the vehicle has broken up. @SpaceX is putting together their anomaly team. Live updates: http://t.co/KX5g7yYnYG

— NASA (@NASA) June 28, 2015


The California-based company's live webcast of the launch went silent about three minutes into the flight when the rocket could be seen exploding and small pieces tumbling back toward Earth.


Liftoff!! http://t.co/tdni5406Hi

— SpaceX (@SpaceX) June 28, 2015


Moments later, a SpaceX commentator said the video link from the vehicle had been lost.

"There was some kind of anomaly during first stage flight," he said, noting that the rocket had ignited its nine Merlin engines and reached supersonic speed.


The vehicle experienced an anomaly on ascent. Team is investigating. Updates to come.

— SpaceX (@SpaceX) June 28, 2015


"However it appears something did occur during first stage operations," he added, referring to the stage of rocket flight before the cargo ship would have been able to separate from the first stage of the rocket and reach orbit.

The Dragon cargo ship was carrying 4,000 pounds (1,800 kilograms) of gear to the space station, including a large parking space, known as an International Docking Adaptor, designed to make it easier for an array of commercial crew spacecraft to dock at the orbiting lab in the future.

The capsule blasted off at 10:21 am (1421 GMT) from Cape Canaveral, Florida, atop the Falcon 9 rocket.

Countdown was normal and the weather was clear, posing no concerns ahead of the launch.

After liftoff, SpaceX had planned to make a third try at a controlled, upright landing of its Falcon 9 rocket on an ocean platform with the goal of one day making rockets as reusable as airplanes.

However, the explosion happened before the first and second stages of the rocket separated.

'SpaceX explosion will not deter human space flight programme'

NASA Administrator Charles Bolden said Sunday's explosion shortly after liftoff of unmanned SpaceX rocket carrying supplies to the International Space Station will not deter the agency's human spaceflight program.

He said the commercial cargo program was designed to accommodate the loss of cargo vehicles.

"We will work closely with SpaceX to understand what happened, fix the problem and return to flight," Bolden said in a statement.


#SpaceX does not expect any safety issues & @Space_Station crew is not in any danger. Watch: http://t.co/KX5g7yYnYG pic.twitter.com/vJrER3khOi

— NASA (@NASA) June 28, 2015
COMMENTS
Comments are moderated and generally will be posted if they are on-topic and not abusive.
For more information, please see our Comments FAQ