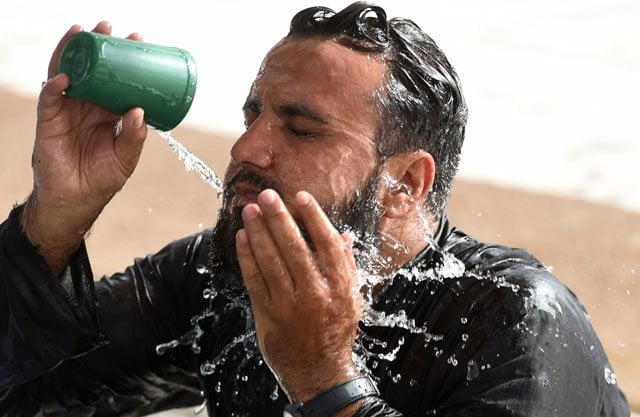 ---
ISLAMABAD:



As residents of Sindh and Karachi, in particular, continue to reel from a deadly heatwave that has claimed more than a thousand lives, weather experts have called for devising a policy or a national action plan on an immediate basis that focuses on dealing with the impact of climate change on people's health.




A June 23 report published in the UK medical journal 'The Lancet' has termed climate change 'the biggest global health threat of the 21st century'.

Read: Passing the buck: Bilawal blames Centre for heatwave deaths

"Climate change will have its greatest impact on those who are already the poorest in the world: it will deepen inequities and the effects of global warming will shape the future of health among all peoples," warns the report.  It says the effects of climate change are being felt today, and future projections present an unacceptably high and potentially catastrophic risk to human health.

The implications of climate change for a global population of nine billion people threatens to undermine the last half-century of gains in development and global health, adds the report.

Dr Muhammad Hanif, director at the National Weather Forecasting Centre of the Pakistan Meteorological Department, told The Express Tribune that Pakistan is already among those countries that are being affected by climate change.

"Various locations across Pakistan, such as Sindh's coastal areas and some parts of Punjab, are under the extreme influence of climate change."

Dr Hanif said climate change has an adverse impact on the health of the people, the most fitting example of which is the recent heatwave. He said people over 60, diabetics, and high blood pressure and asthma patients are more vulnerable to the effects of climate change.

Read: Supporting torture victims: Audience decries govt's 'mental torture' in deadly heatwave

He expressed his dissatisfaction over the National Climate Change Policy 2012. "It doesn't cover the impact of climate change on health in detail."

Dr Ejaz Ahmed Khan, assistant professor of environmental health at the Health Service Academy, said climate change has altered the pattern of vector-borne diseases in Pakistan. "Mosquitoes spreading dengue and malaria are now found in those localities where they were previously not found."

Dr Khan said skin diseases, various forms of allergies and water-borne diseases could be quite common in the near future. "We need to chalk out a 20 to 25-year plan to tackle such harmful impacts and take preventive measures."

Published in The Express Tribune, June 28th, 2015.
COMMENTS
Comments are moderated and generally will be posted if they are on-topic and not abusive.
For more information, please see our Comments FAQ