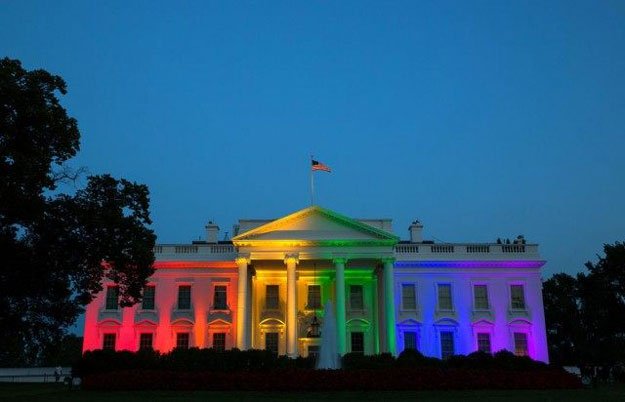 ---
NEW YORK: Actors, singers and Hollywood celebrities, many of whom have played a major role in driving acceptance of gay rights in mainstream culture, whooped with joy at the US Supreme Court's ruling that made gay marriage legal nationwide on Friday.

Twitter lit up after the historic decision, with #LoveWins, accompanied by a rainbow-colored heart, and #Supreme Court quickly becoming the top trending items on the social media site.


PHOTO: REUTERS

Celebrities such as British singer Elton John and US comedian Ellen DeGeneres, both of whom are in same-sex marriages, have spoken out in support of gay unions for years.

Popular American TV shows Will & Grace, Glee and comedy Modern Family also are widely credited with playing an influential role in changing the perception of gays, lesbians and transgender people in the United States and beyond.

Following are some celebrity reactions to Friday's ruling, delivered via Twitter, Instagram, Facebook and statements:


Finally And at Last! The Revolution Of Love has Begun! ❤️❤️❤️❤️❤️#livingforlove ❤️#rebelheartsunite pic.twitter.com/nK9TH96Df8

— Madonna (@Madonna) June 26, 2015
You never gave up no matter how much shame & fear. How much pain. Time to celebrate & heal. I'm in such awe of you. pic.twitter.com/sqVgMI30La

— Lady Gaga (@ladygaga) June 27, 2015
#LoveWins "They ask for equal dignity in the eyes of the law. The Constitution grants them that right." - #SCOTUS, June 26, 2015

— Leonardo DiCaprio (@LeoDiCaprio) June 26, 2015
Really encouraged to be an American today... Love should live beyond labels & intolerance! #LoveWins #EqualityForAll ❤️💛💚💙💜

— KATY PERRY (@katyperry) June 26, 2015
It's a new day. Thank you Supreme Court. Thank you Justice Kennedy. Your opinion is profound, in more ways than you may know. #huzzah

— Neil Patrick Harris (@ActuallyNPH) June 26, 2015
Love won. #MarriageEquality

— Ellen DeGeneres (@TheEllenShow) June 26, 2015
Hugely emotional that marriage equality has finally come to the U.S. History! Love ALWAYS wins. ❤️❤️❤️

— Jesse Tyler Ferguson (he/him/his) (@jessetyler) June 26, 2015
Congratulations, particularly to those who made the case for equality. So pleased to be celebrating @nycpride over the weekend. #LoveWins

— Ian McKellen (@IanMcKellen) June 26, 2015
Scenes from the Pride rally at @StonewallInn1 #LoveIsLove #LoveWins pic.twitter.com/mXWjAt9b2t

— Marc Jacobs (@marcjacobs) June 26, 2015
ALL 50 STATES!!!! 😭 So happy. Times are changing my friends. We have such a long way to go and so… https://t.co/lp6wDLfGmQ

— samsmith (@samsmith) June 26, 2015


https://twitter.com/LanceBass/status/614578709052399617


BRAVO Supreme Court!!! We knew you had it in you. . .
looking out for equality and looking out for healthcare. It's a good day in America!!!

— Whoopi Goldberg (@WhoopiGoldberg) June 26, 2015
COMMENTS (1)
Comments are moderated and generally will be posted if they are on-topic and not abusive.
For more information, please see our Comments FAQ