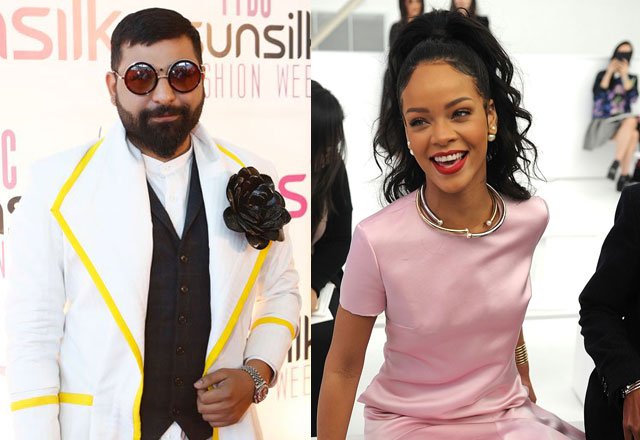 ---
Making lasting impressions with overseas audiences, Pakistani designer Ali Xeeshan is riding high on his career. According to a press release, the designer has now been approached by the none other than Rihanna's stylist to make a dress for her.

With his recent participation in a number of international fashion weeks, Ali has garnered a lot of attention with his creative aesthetics hitting the right spots and finding favor overseas.

His latest endeavor is a dream come true for most designers. Being approached by Grammy award-winning singer's stylist to style Rihanna's wardrobe is no ordinary thing. One of her favorites was the cheeky and high end eye-wear showcased by Ali during his collection showcase at Fashion Parade London earlier this month. Unfortunately, the designer could not be reached for a comment.


PHOTO: SECRETCLOSET.PK
PHOTO: SECRETCLOSET.PK

The 5-year-old British-Pakistani fashion sensation Laila Naim, who became the first Pakistani model for 159-year-old British luxury fashion house Burberry, made a special appearance at the grand fashion event.


PHOTO: SECRETCLOSET.PK

His eccentric and whimsical collection was a bright affair on the runway. Monochrome floral prints fused with rich gold embellishments and paired with extravagant eye wear were a feast for the eyes.

The designer is on an all time career boost with his unique design aesthetic being appreciated all over the world.

And as always, Twitter was abuzz with the news:


The master couturier #AliXeeshan @alixeeshan will dress up #Rihanna - The ultimate embodiment of a modern pop

— Nishsays (@Nishsayss) June 27, 2015
We missed @alixeeshan at the last few fashion weeks, but now he's on his way to make history by dressing @Rihanna. Wish I were that lucky! 🙈

— Jadirah (@JadirahSarmad) June 27, 2015
Pretty amazing if @alixeeshan really has been approached by Rihanna's stylist to dress the super diva. Wow moment for Pakistani fashion.

— AHI (@aamnaisani) June 26, 2015
Its these #alixeeshan 's glasses that hotter than hottest #rihanna fell in love with and wants for… https://t.co/yU5KgMyM5A

— UMAIR MIRZA (@Umairmirza) June 26, 2015
COMMENTS (9)
Comments are moderated and generally will be posted if they are on-topic and not abusive.
For more information, please see our Comments FAQ