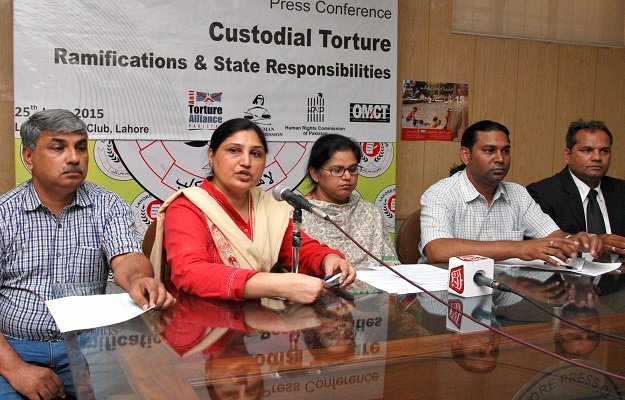 ---
LAHORE: Custodial torture is a crime and derogation against humanity, said participants of a conference arranged to mark International Day in Support of Victims of Torture on Thursday.

The Anti-Torture Alliance Pakistan, the Human Rights Commission of Pakistan (HRCP) and the Asian Human Rights Commission had arranged the conference. Human rights activists Asma Jehangir, Bushra Khaliq, Tanveer Jehan, Waqar Mustafa and Advocate Nadeem Anthony spoke on the occasion.

They said custodial torture legitimised violence and promoted impunity. The widespread use of torture by law enforcement agencies is a demonstration of primitive criminal justice system, they said.

"Torture is common in Pakistan. It is tolerated as a norm in our society." They said torture had become a common tool to obtain confessional statements and bribe from detainees. The speakers said that without effective legislation and a proper forensic system, torture-free investigation would remain a wishful thinking.

They said Pakistan had ratified the United Nation's Convention Against Torture (UNCAT) on June 23, 2010, but to date no law had been enacted to criminalise torture. "Although the Senate has passed a "toothless bill" against torture in January 2015, it needs some amendments in line with the UNCAT. The National Assembly must take up the bill in light of civil society demands." The speakers said that in the wake of GSP Plus status for Pakistan, the state's responsibility of effectively complying with the UNCAT had increased.

The state's report on progress of compliance with 27 UN conventions, including the UNCAT, is due in six months. Therefore, according to the speakers, it has become important for the government to take steps to eliminate custodial torture.

They also passed a resolution calling on the parliament to enact laws to criminalise torture. It demanded that the government end impunity for law enforcers they enjoyed in the name of national security. The resolution demanded that the government establish rehabilitation centres for victims of torture, and pay compensation to them.

It said the government should close private detention and torture cells. The government should respect international treaties, including the UNCAT. The government should take immediate steps to check incidences of abductions and disappearances. The resolution urged the government to release all those who had been forcibly disappeared.

The government should ensure security of human rights defenders, journalists, political activists, writers, students by developing a mechanism for their protection and safety, it said.

"The authorities should modernise the criminal justice system by establishing complaint centres. The parliament should legislate to change the colonial-era policing system."

The resolution urged provincial governments to check the menace of custodial torture. It demanded that the Punjab government improve human rights standards at police stations, lockups and jails.

Published in The Express Tribune, June 26th, 2015.