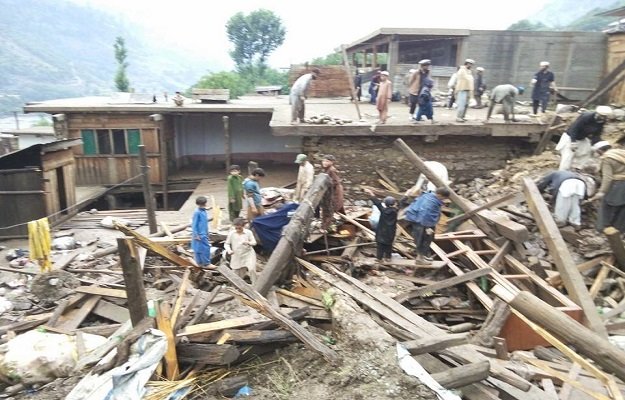 ---
UPPER DIR:



At least 10 people, including three children, were killed when a thunderstorm followed by a flash flood hit Kalkot, Upper Dir. Two children also went missing.




Local MPA Mohammad Ali told The Express Tribune at least two houses had been washed away, killing two men, five women and three children.

"There is hardly any equipment for rescue efforts in the area. Also, it is inaccessible as the roads are blocked due to landslides," he added.

Police said in total seven houses, an Eid Gah and a seminary were swept away. According to a Kalkot policeman, prayer leader Ahmad Munwar and his wife were killed in the flood. At least 15 shops were damaged.  A Patrak police officer told The Express Tribune a house belonging to Habibullah, Abdullah and Salmat Khan was also damaged.

At least five kilometres of the main Dir-Kohistan road also washed away as "the flow of the water is very strong," added the officer. "Rescue efforts are under way but the area is difficult to reach." Kalkot is part of the Dir-Kohistan region and has been affected by flash floods previously.

Published in The Express Tribune, June 26th, 2015.
COMMENTS
Comments are moderated and generally will be posted if they are on-topic and not abusive.
For more information, please see our Comments FAQ