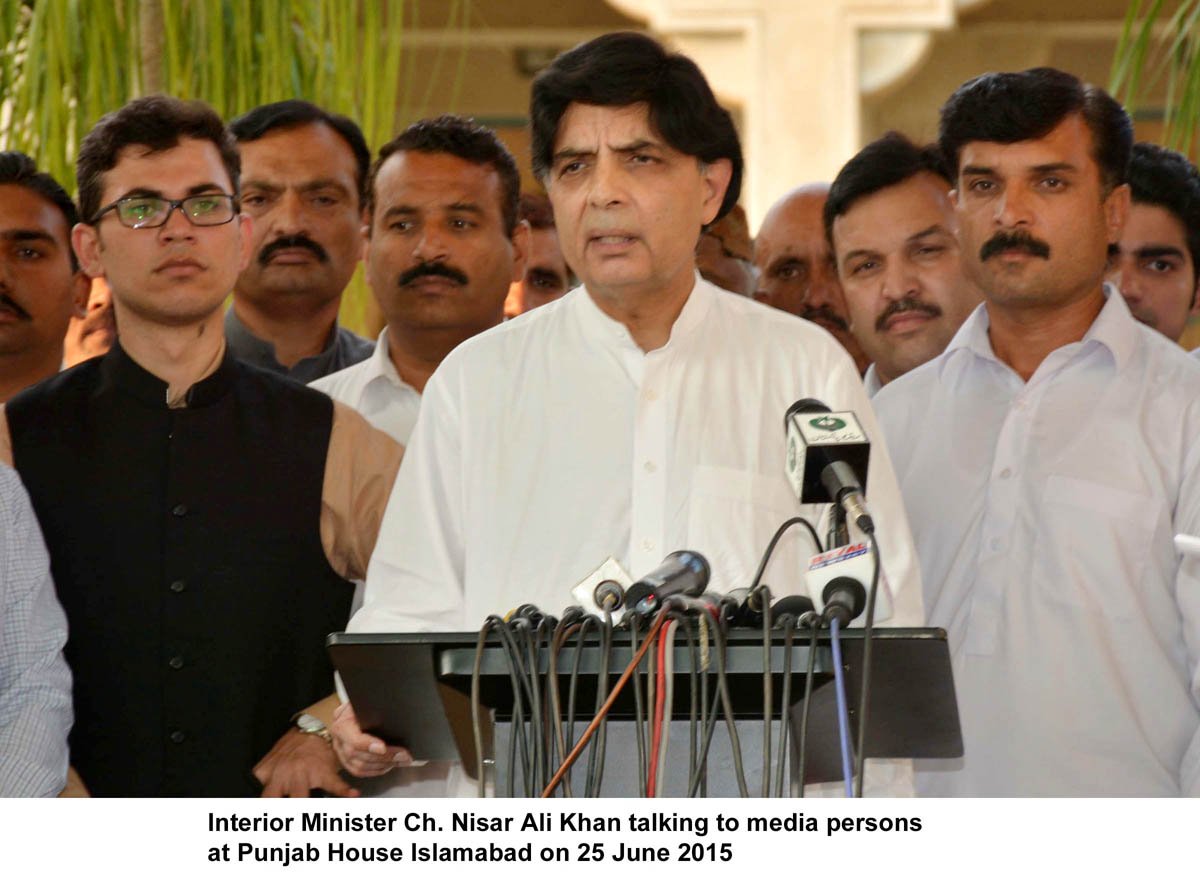 ---
ISLAMABAD: Interior Minister Chaudhry Nisar said on Thursday BBC's report alleging Muttahida Qaumi Movement received funding from India, strengthens Pakistan's apprehensions against the neighbouring country.

"BBC's report strengthens our apprehensions against India," Nisar said, while addressing the media after his meeting with Barton.

"In the past, on multiple occasions our agencies have informed the government and those of other countries of India's involvement in Pakistan," he added.

Referring to Modi's acknowledgement that his country played a part in the events of 1971 that led to the breakup of Pakistan, the interior minister added, "The highest level of leadership in the neighbouring country has admitted to involvement in other countries."

Read: Karachi unrest: MQM received funds, training from India, BBC

Further, Nisar said Pakistan has sought the British government's help in seeking detailed facts regarding the BBC's report.

"We need UK government's help for facts regarding this report," Information Minister Chaudhry Nisar said, during a meeting with British High Commissioner Philip Barton in Islamabad today.

"Tomorrow I will write a formal letter to the British government requesting their help."

Read: Establishment to seek treason trial against MQM chief Altaf Hussain

"Several sensitive issues have been disclosed in the report," he said, adding they want to take the report to its logical end.

Nisar said he had invited British High Commissioner to Pakistan for a meeting on Thursday and to exchange of views on the information divulged in the BBC documentary.

The High Commissioner was told that the facts revealed in the BBC documentary are sensitive and important and are a source for concern for the people and the government of Pakistan, requiring transparent investigation and access to information to take the issue to its logical conclusion.

The interior minister said that the BBC report assumes special importance and relevance in the backdrop of information gathered by Pakistan through its own sources.

He categorically stated that the issue raised in the BBC documentary should not be related to voters and supporters of MQM who are as patriotic as other Pakistanis. He said the report is about a handful of people who should be investigated.

Earlier today, Foreign Secretary Aizaz Ahmed Chaudhry said action will be taken against the MQM if the BBC's allegations that the party received funds and training from India are authenticated.

Further, it was reported the country's security establishment will seek registration of a treason case against MQM chief Altaf Hussain in the wake of BBC's claim.

Read: Security institutions to investigate BBC report on MQM's 'Indian funding'

A report published on BBC on Wednesday claimed the MQM received financial and logistical support from India. Citing an 'authoritative' Pakistani source, the report by Owen Bennett-Jones claimed that senior MQM officials, in formal recorded interviews, admitted before British authorities that the party has been receiving funds from the Indian government.

Quoting a Pakistani official, it said India had trained hundreds of MQM militants in explosives, weapons and sabotage over the last 10 years in camps in north and north-east India. "Before 2005-2006, the training was given to a small number of mid-ranking members of the MQM," the official was quoted as saying. More recently greater numbers of more junior party members have been trained, the report added.
COMMENTS (44)
Comments are moderated and generally will be posted if they are on-topic and not abusive.
For more information, please see our Comments FAQ