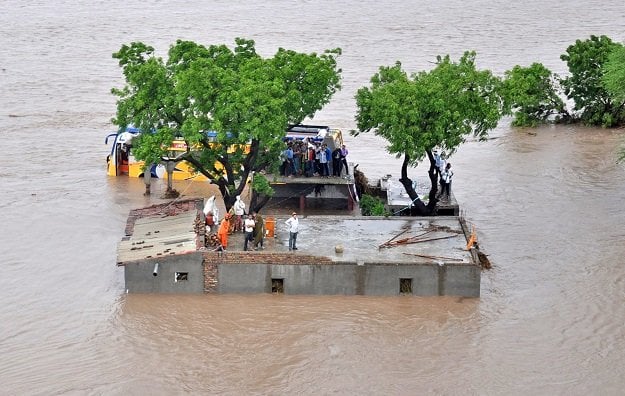 ---
AHMEDABAD: Flash flooding triggered by torrential rains has killed 41 people in India's western Gujarat state, as the annual monsoon season hits the country, a disaster management official said Thursday.

Authorities have evacuated more than 10,000 residents mainly from coastal areas of Gujarat following heavy rains in the last 24 hours, the state government said in a statement.

The coastal district of Amreli was the worst affected, with 36 people killed in flood-related incidents, a duty officer in the state's disaster control room said.

Read: Inclement weather: Heavy rain likely to cause flash floods

"There have been 41 deaths across the state with 36 in Amreli, three in Bhavnagar and two in Rajkot districts," the official told AFP.

Thirteen of the deaths in Amreli occurred when two houses collapsed in the flooding, local police deputy superintendent Pinakin Parmar told AFP.


This handout photograph released by The Indian Ministry of Defence on June 25, 2015, shows an aerial view of a roadway and train tracks as floodwaters rise. PHOTO AFP

India normally sees flooding during the monsoon but the intensity of this year's rains in Gujarat has surprised many.

The air force has been deployed to help with evacuations, including that of 44 passengers of a bus stuck on a flooded highway near Amreli town, the government's statement said.

In photos released by the defence ministry, families were shown huddling on rooftops of flooded homes awaiting rescue, along with washed out train tracks and roads.

India's weather bureau has forecast more heavy rain in Gujarat for the next two days.

Read: Nature's wrath: Landslides bury 15 in flood-hit Indian Kashmir

As the monsoon sweeps across the country, flood warnings have also been issued in northern Jammu and Kashmir state -- hit by floods last year that claimed about 300 lives.


This handout photograph released by The Indian Ministry of Defence on June 25, 2015, shows Indian villagers as they board an Indian Air Force helicopter as floodwaters rise. PHOTO AFP

Waters were receding in northeastern Assam following floods there last week. But more than 20,000 people were still waiting to return home after moving to higher ground after the rain hit, the Press Trust of India said.

Nearly 900 hectares (2,223 acres) of farm land was also still under water in that state, the news agency added.

The monsoon is vital for South Asia especially for crop production. India receives nearly 80 percent of its annual rainfall between June to September period.