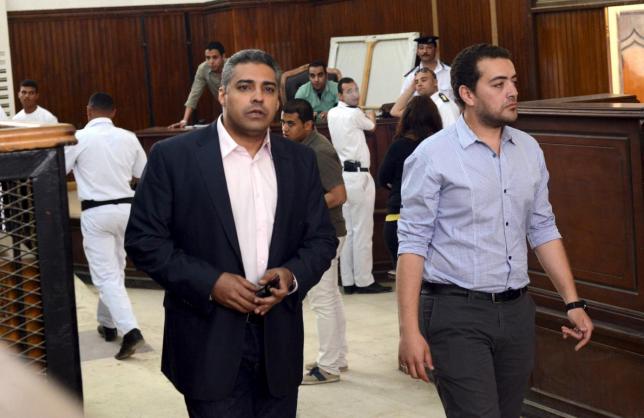 ---
CAIRO: Journalists are facing "unprecedented threats" in Egypt with a record number behind bars, mostly for links with ousted president Mohamed Morsi's banned Muslim Brotherhood, a media watchdog said Thursday.

The Committee to Protect Journalists said at least 18 journalists, many of whom worked for online media, were locked up in Egypt, the most since it began keeping records in 1990.

"The threat of imprisonment in Egypt is part of an atmosphere in which authorities pressure media outlets to censor critical voices and issue gag orders on sensitive topics," it said in a report.

At least one third of the detained journalists were serving life sentences, according to the New York-based group.

Read:Opinion-makers: Journalists ask govt for security, patronage

"The arrests of journalists in Egypt are often violent and involve beatings, abuse, and raids of their homes and confiscation of their property," it said.

"Their prison cells are often unclean and overcrowded. In letters from prison, some journalists wrote that they often do not see sunlight for weeks; others described the torture of prisoners, including the use of electric shocks."

Human rights campaigners have voiced alarm at the worsening situation in Egypt since 2013 when the military toppled Morsi, an Islamist who was Egypt's first freely elected head of state.

Under army chief-turned-president Abdel Fattah al-Sisi, the authorities have waged a brutal crackdown on the Muslim Brotherhood and its supporters.

Rights groups accuse Sisi of establishing a regime more repressive than that of veteran strongman Hosni Mubarak, who was overthrown in a 2011 popular uprising.

The detained journalists include Mahmoud Abu Zeid, widely known as Shawkan, a freelance photographer who was arrested in August 2013 while covering deadly clashes between security forces and Morsi supporters in Cairo.

Read:Egypt mass jailbreak: Mursi, 100 others sentenced to death

He has not been convicted of any crime.

The CPJ said that while Egyptian officials denied any journalists were detained over their work, its own research found Sisi's government "has used the pretext of national security to crack down on human rights, including press freedom".

The government had "indiscriminately charged" journalists and political detainees belonging to the Brotherhood, it added.

It noted that some media, such as Qatari-owned Al-Jazeera and the Turkish Anadolu news agency, have been banned from operating in Egypt or forced to shut their offices.

In addition to the 18 detainees, Canadian Al-Jazeera journalist Mohamed Fahmy and his Egyptian producer Baher Mohamed are being retried on charges of supporting the Muslim Brotherhood.

Their Australian colleague Peter Greste was deported. They were sentenced last year to up to 10 years in prison but an appeals court ordered a retrial.